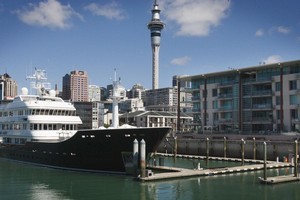 If you're in the market for a five-storey megayacht complete with a helipad, submarine and stabilisers to stop your pool game being interrupted by high seas - contact New Zealand's richest man.
Graeme Hart, estimated to be worth $5.5 billion, put his luxury boat Ulysses up for sale in July last year but it is still on the market.
The 51m black-hulled vessel costs more than $85 million, but for a price like that you would be buying more than a superyacht.
The Ulysses, built for Hart in America in 2003, can tackle icy Arctic waters as easily as it can handle being anchored for months in the upper reaches of the Amazon River.
"This is not a marina ship," skipper Brian Carver told Bloomberg.
The megayacht has a retractable helipad and a former US Navy mini-submarine attached to the foredeck for underwater adventures for up to six people.
But should guests decide it's too choppy for deep-sea exploring and instead stay inside for a game of pool, they need not worry that the swell will get in the way - the Ulysses has four stabilisers which also stop the Batman pinball machine from tilting.
To power all its luxury gadgets, the boat has a 681,374-litre diesel tank that costs about $897,700 to fill and keeps it running for more than 11,000km - a one-way trip from Auckland to Seattle.
Named after the mythical ancient Greek voyager, the Ulysses was once the largest super-yacht in Australasia.
It is now one of 2500 in the world longer than 45m.
Recently, the boat has been moored in Auckland's Viaduct Harbour for the Rugby World Cup.
As well, another of Hart's superyachts, the Weta, has been moored in Auckland. The 74m craft arrived at Wynyard Quarter from Iquique, in Chile, in June.
ULYSSES
* 51m from stern to bow.
* Valued at more than $85 million.
* Five storeys high
* Has a submarine.
* Retractable helipad.
* Stabilisers to keep pool table upright.