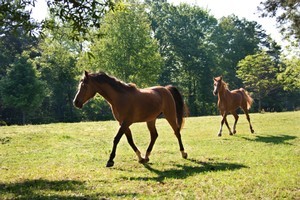 One person had to be cut from a car after being pinned inside by a horse that landed on the roof in a crash in the central North Island.
It was the second crash involving horses on the same stretch of State Highway 38 and only 200m apart on Sunday morning.
Sergeant Nicky Riordan of Rotorua police said emergency services were called to SH38 about 6am on Sunday.
A group that was taking part in a horse trek had stayed the night at Waiotapu Forest School Camp but seven of their horses managed to escape and wandered onto the road.
One horse was hit by one car while 200m away another horse was hit in a crash that involved two cars. Both horses died.
Mrs Riordan said both incidents were still being investigated and she was unsure if any charges would be laid.
A Rotorua Fire Service firefighter, who didn't want to be identified, was called to Sunday's crashes and said the people involved were lucky to not have suffered serious injuries.
"We were called to a crash scene about 6am but when we got there, there was one car and a dead horse," he said.
"We were just waved on by the police and about 200m down the road there was two cars and another dead horse. One of the occupants of one of the cars was trapped inside the car."
He said one person had to be cut from a car after becoming pinned inside when the horse landed on the roof.
"They didn't appear to have other injuries except from the suspected neck injury," he said.
"There was another passenger in that car who didn't have any injuries."
He said the sole occupant of the second car involved in the crash also had minor injuries.
"They were all very lucky."
The man said Rotorua firefighters had been called to various crashes involving wandering stock but it was a fairly rare occurrence.
"Over the years I have been to the odd car crash which involved cows but things like this don't seem to happen too often."
A man who was a participant said about 54 people had been taking part in the trek and several were extremely upset about the accidents.
For more articles from this region, go to Rotorua Daily Post