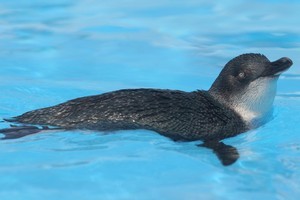 At least 90 birds may already have been affected by oil spilling from a cargo ship stuck on a Bay of Plenty reef and rehabilitating them could ultimately cost millions of dollars for the shipping company responsible.
The wildlife treatment facility at Te Maunga has nine oiled birds, but with oil already washing up on Mount Maunganui beaches the number is expected to rise.
Wildlife centre director Brett Gartrell said the nine birds taken in by the facility were unlikely to be the only ones affected.
He said some estimates suggested only 10 per cent of oiled birds were rescued. This could mean that 81 other oiled birds might already have died.
"There are lots and lots of seabirds in the area. This is a really rich area. There's a very high possibility we'll be dealing with a large scale,'' he said.
Dr Gartrell said when the birds became heavy with oil they drowned quickly. He said the ones that made it to shore became easy prey for predators, and some developed hypothermia because their feathers became damaged.
The wildlife centre has a crew of 80, including field staff, and a considerable tented veterinary base in Te Maunga. Staff have been sanctioned to increase their response when necessary.
Dr Gartrell said it cost $1.2 million to rehabilitate and house 15 birds for three weeks after a comparable recent oil spill in Australia.
The fallout from this spill could be much higher in terms of animals affected but Costamare Inc, the company that owns the Rena, is responsible for all costs incurred in the clean-up.
``This is being paid for by the spiller. Cost is not a problem for us. Everything we do is billed back to the spiller,'' Dr Gartrell said.
A seal found in the path of the spreading oil was captured by a Department of Conservation patrol yesterday afternoon. It has been taken to the Te Maunga facility in order to keep it safe
For more articles from this region, go to Bay of Plenty Times