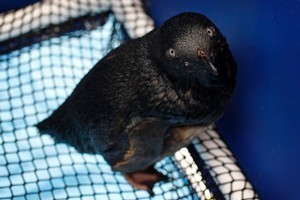 Nine birds covered in oil have been brought into the wildlife care centre at Te Maunga for rehabilitation.
The birds are being cleaned and treated and will be held on-site because they cannot be released back into a natural habitat swamped in oil from the leaking Rena.
The washing process involves massaging canola oil into the birds' feathers to remove the heavier oil and washing them off in softened water heated to 41C _ the normal body temperature of the birds.
Veterinarian Brett Gartrell said some of the birds could handle up to an hour of washing while others could withstand only 20 minutes.
"We think that most of the penguins will survive,'' he said.
The shags were more of a concern as they did not handle the stress of the washing as well, he said.
"They'll be more of a challenge to get through.''
Kerri Morgan, oiled wildlife co-ordinator at the treatment facility, said the bird centre is capable of sheltering and treating up to 500 birds at a time, should the situation deteriorate.
"We're getting ready for if there is a catastrophic release of oil,'' she said.
"We are prepared to take up to 500 birds.
"We have several organisations on standby overseas.
"We are just planning for things to get bigger.''
As well as the staff currently looking after the birds, there have been 200 volunteers inducted into the process, with a database set up recording their various areas of expertise should extra personnel be required.
An expert has recently arrived from Australia to assist the oiled wildlife centre.
Ms Morgan said the birds that have been taken in for treatment were all badly oiled.
"All these penguins have been pretty badly coated,'' she said. "They get it in their eyes, their mouths.''
There are penguin colonies right along the Mount Maunganui and Papamoa coastline and on Motiti Island.
The birds are contained for their safety and are fed and bathed. Swimming in clean water allows them to preen their feathers back to their natural condition.
When discovered with oil on them, the earlier the birds can be treated, the greater the likelihood they can be rehabilitated, Ms Morgan said.
"The sooner they can get them into us, the better the prognosis,'' she said.
If the worst-case scenario were to arise, and too many oiled birds were to come in for treatment at one time, a priority treatment order would be put in place. Endangered species would be treated first and the more common species may have to be euthanised.
"[But] at the moment, we're treating everything that comes in,'' Ms Morgan said.
Six volunteers were helping at the wildlife centre on Saturday and more than 80 were divided into 14 teams out patrolling Papamoa Beach for other oiled wildlife.
Three boats were also doing marine sweeps.
- APNZ