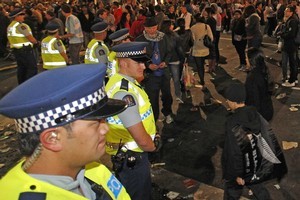 Auckland police are bringing in more than a hundred officers from around the country to cope with the workload expected during the rest of the Rugby World Cup finals.
Yesterday, Assistant Commissioner Allan Boreham said the interest in the business end of the tournament meant police had to bring people in. The region usually relied on its own officers to cover events.
The visiting officers, including some from national headquarters, will raise the complement to 3800.
Auckland Council estimated 128,000 people went to the rugby at Eden Park, attended Diwali Festival of Lights celebrations in the city or soaked up the games at the four fan zones spread across the city.
It was rare for police to work with those numbers of events but crowds had been in "brilliant" form, he said. The celebratory mood led to a quieter than average Saturday night with evictions at the waterfront and Eden Park but no arrests.
In Mangere at the Southern Seas fan zone there were four arrests but that was considered normal for the 7200 who attended, Mr Boreham said.
"This is a very different policing environment to what we normally get and I think staff find that refreshing.
"I've had really positive feedback from both visitors and locals that our police staff are engaging positively with people, that they understand this is about a celebration and to allow people to have a good time but at the same time they want to be safe and feel safe, so there is a lot of effort put into that."