Everything was going so swimmingly well - then the dark clouds banked up. I'll be a donor if Daniel Carter can get a transplant.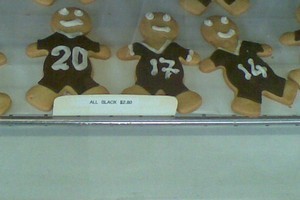 One question was on the tip of everyone's tongue at our weekly men's group meeting inside the campervan shower unit: Was it possible to strain your groin one weekend and wake up with a semi the next?
Up until now, Chas, Bruce and most of the regulars at MWPS (Men Without Parking Space) had never heard of an adductor longus. Others thought it was the name of Russell Crowe's African mate in Gladiator. Now we wanted to donate one - performing the transplant on Dan Carter ourselves, if possible.
In the streets of Geraldine and Temuka, women stockpiled Jockey underwear. As keepsakes. Men stared down over their belt buckles ... pleading with their nether-regions to start producing all-round kicking displays at the highest test level. But there wasn't any Viagra for that.
Champagne rugby needs bubbles, and one of ours had burst. We weren't alone. This was the week the Rugby World Cup went Ouch! Bakkies Botha went bye-bye.
Drew Mitchell drew up short. Murray down at the Top 10 Trailer Park in Tokoiti slipped over in the Port-A-Loo. Again.
In Wellington and Auckland, the rugby cosmos was shrinking. And plenty of star-signs were getting hurt in the process.
It had all been going so well. In Dunedin, the campervan was cast upon by envious eyes. Students had never met a sober driver before who could drive everyone at the Captain Cook on a Saturday night home in one go. At the new stadium, I sat in front of Carl Hayman's mum - just back from a 40th in Waimate. She had a raspy laugh. Went outside at halftime and blew passive smoke on passive smokers.
Said Carl had been a good boy at school.
On the road - Tapanui, Mataura, Clinton - the giant that was the South changed moods. Where our drive to Christchurch had been parched, the land cut with wrinkles; now it was wet through. I got lost. Again. Borrowed mobile coverage from Barry (busy pleading with his groin outside a service station in Gore) and called the editor. Told him no one had ever found their way back from Invercargill to Auckland. He sent down a copy of Goodbye Pork Pie. Told me to watch it on rewind. It worked.
In Kaikoura, I listened to an Australian ask if it cost any extra to ride the whale all the way up to the beach. Like the girl in the film. Walked black sand beaches with my Jandals on the wrong feet, trying to imagine how Richie must feel. Please God, let his Jandals be okay. After two days, and changing the toilet cartridge on the campervan (which is a lot like changing the ink cartridge on your printer, only the stakes are higher), I started thinking maybe the whales were having the last laugh. Paying to watch us.
In Nelson, graffiti knitting and good coffee was everywhere. An All Black bike; All Black biscuits to be bitten. But not in the nuts. Still, it was all getting too intense.
Our Trade Me auction for pieces of the campervan that had been "pulled off" by Keas had plateaued at $41.98. I considered taking the cash and doing a runner to Zurich or Bangkok. Living large.
The road to Picton was paved with flags. The ferry north full of Irish and Welsh and South Africans who were also all hoping to wake up with semis. We were heading home.
The only question now was who was coming with us.
* Follow Matt across New Zealand at his RWC Road Trip blog or on twitter @KeaKaharoadtrip.
* Bid on Trade Me for your chance to win pieces of the Kea Kaha-Mobile, with our WHEN KEAS ATTACK auction.