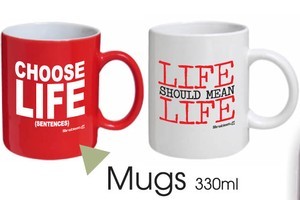 The parents of a murder victim are launching a range of merchandise to fundraise for the Sensible Sentencing Trust.
Ron and Faye Bishop will run the Sensible Stuff business, selling a range of items with the trust's logo.
The clothing, cups and other merchandise carry provocative messages, including "Make Them Break Rocks" and "Choose Life (Sentences)" .
The Bishops turned to help the trust after their son Dean Browne was murdered. His killers were sentenced to 18 years' without parole in July.
Ron Bishop said the trust had made it possible to attend the trial and sentencing. While proceeds from the merchandise would go to the trust, the couple hoped to earn some money from running it.
Ron Bishop said the couple's retirement savings had gone since their son's death in January 2010. Self-employed in retail, Bishop said it was almost impossible to "put on a happy face and function".
In the 18 months to the end of the trial, the business was wound up, their home remortgaged and most of their retirement savings vanished. "We've been granted life membership to the most exclusive and unwanted club in the world - one made up of parents of homicide victims."
The website goes live this week: www.sensiblestuff.co.nz