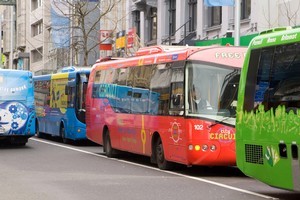 A man has been ... er ... pulled in for police questioning after numerous complaints of indecent behaviour on Auckland buses.
At least four people have reported seeing separate incidents of masturbation on buses since late last year.
Auckland resident Michelle Mortensen said her Christmas Day was ruined by the actions of a man sitting opposite her on a bus passing through Ellerslie.
"I was just sitting on the bus and out the corner of my eye I saw a flicking motion and did a double take. He was going at it full throttle. I called out to the driver to pull over."
After Mortensen alerted the bus driver, the man fled at the next stop.
Two other people wrote to Auckland University's Craccum magazine about incidents. One reported seeing "a homeless dude" masturbating on the back seat of a bus in September.
A second letter writer said she had also "experienced this disgusting sight" and another woman saw a similar incident on a 027 bus on Karangahape Rd early this year.
NZ Bus chief risk officer Paul Hume said the company was aware of a further incident in July. "That matter was referred to the police," he said.
"Our process regarding any offences committed on our vehicles is to notify the police as soon as the driver is made aware of any incident."
Hume said passengers should alert drivers as soon as they noticed such behaviour.
However, an Auckland City bus driver said some drivers were reluctant to deal with obscene passengers, due to fears of "human rights issues".
He also said a colleague saw people having sex on a Night Rider bus last month but did nothing about it.
Auckland police district spokeswoman Noreen Hegarty said the masturbating reports have been "the subject of considerable police attention".
She said a 41-year-old man was arrested on September 22 and remanded in custody until December 19.