Kiwi billionaire is working on a home-improvement job in Glendowie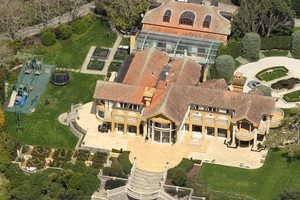 The richest man in New Zealand is giving his sprawling $30 million clifftop complex an extreme makeover.
Highlights of Graeme Hart's latest home-improvement project in Glendowie include a new spa, elevated terraced lawn, three-storey banquet hall, colonnade walkway and a 75m-long suspended driveway.
Renovation plans acquired by the Herald on Sunday include geotechnical assessments and architectural drawings outlining changes around his property on Riddell Rd.
A house next door, on Waitara Rd, has been demolished to make way for some of the improvements.
Last week, a crane towered above the site of a new elevated driveway that is under construction.
Plans also describe an addition to Hart's existing summer house. New foundations will be built to support a future banquet hall with a glazed stairwell and lift.
Ambitious engineering also includes a new, cantilevered timber deck. Landscaping will include at least 123 trees, including karaka, ponga, broadleaf, rewarewa and puka.
A spa pool next to an existing rotunda will also be built.
Hart owns most of the surrounding properties on Riddell Rd and Waitara Rd.
During the past 24 years, Hart has invested in some of New Zealand's best-known companies, including Whitcoulls and Carter Holt Harvey.
One of the few high-flying capitalists to survive the 1987 sharemarket crash, he moved from million-dollar deals in the Rogernomics era to multi-billion-dollar deals in the 2000s.
Renovations of the property have received 25 building consents and 14 resource consent approvals since 1993, most since Hart took over the clifftop home.
He bought the original property for $2 million in 1995. It is now worth at least 10 times that amount. Hart's superyachts, worth at least $150 million, are also in town for the Rugby World Cup. One 74m superyacht, formerly called Weta, arrived from Iquique, Chile, in June, and needed the assistance of a tug when it was moored at Wynyard Quarter. Ulysses, Hart's previous flagship, has also been seen around the new waterfront.
Worth an estimated $100 million, Ulysses keeps company with other superyachts such as Aquarius, Mary Jean and Elandess, which are lining wharves from the Viaduct to the redeveloped public parks round the old concrete towers of the tank farm.
Hart's $5.5 billion net worth is greater than the entire gross domestic product of at least 45 countries, including Fiji.