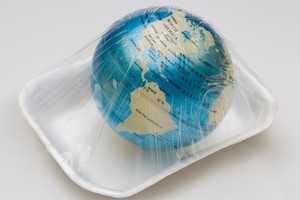 Cling film was once considered a kitchen essential and champion of convenience.
But in a bid to save the planet and reduce hefty waste-collection bills, primary schools are leading an anti-cling film crusade.
It has not been easy going - lawyers from Glad Wrap even issued one Hawke's Bay school with an infringement notice after it referred to the brand name in a note to parents.
But many schools are now reporting a 90 per cent uptake of the "litterless lunch" initiative.
Kate Norton, a teacher at Point View Primary in East Auckland, said parents were under instructions to avoid cling film and small packaged snacks.
"It's amazing, at lunchtime the children run up to the teachers and say, 'Look, I've got nude food'."
The school had even removed all but three of its rubbish bins, and Norton said it would like to ban non-recyclable wrappings completely.
At Drury School in South Auckland, children with package-free lunches are entered into a raffle, drawn in assembly each week.
"Some parents were keen straight away, others put it in the too-hard basket," teacher Helen Baker said.
Wanaka mother Marcia McWhirter started 4MyEarth, a reusable lunch-packaging business, four years ago and said she could barely keep up with demand. "The entire culture is changing. Children are learning that it's not good for the environment."
Glad Wrap commercial director Richard Smith said sales of the product had slowed over the last few years but a boom in Gladware containers had offset this.