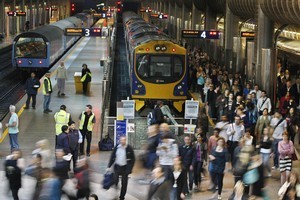 KiwiRail has cancelled Hamilton train services to this weekend's Rugby World Cup quarter-finals in Auckland after selling only 23 tickets for commuters going to both matches.
But a spokesman advocating commuter trains between Hamilton and Auckland says the canning and lack of demand is not a death blow for the proposed rail service.
The service, which was for passengers travelling from the Frankton railway station in Hamilton to Britomart in Auckland, was set up for rugby fans going to games at Eden Park this weekend.
England play France tomorrow night and the All Blacks face Argentina on Sunday.
But KiwiRail spokeswoman Kimberley Brady said only a handful of tickets for the 80-seat train were sold on each of the two days.
"We had nine bookings for the one on Saturday and just 14 for Sunday so we called them off," she said.
"There wasn't the interest we were expecting."
Ms Brady said despite the lack of enthusiasm for the trip, tickets for trains to the semifinal and final were still selling and the service would run on those dates.
Campaign for Better Transport spokesman Cameron Pitches believed the cost - $90 for a return trip - was probably a factor in people choosing not to take the train.
The price is around double the $20 to $25 each way that CBT is advocating for commuter trips from Hamilton to Auckland.
"You do the maths on it if you have four people paying $90 that is $360 ... that's a return flight somewhere, not a train trip to Auckland.
"They also only indicated the service would run a couple of months ago, so it's failed more from a marketing point of view than a viability of rail point of view."
An 11,500-signature petition was presented to Parliament in March last year calling on the Government to implement the rail service, and a telephone poll of 1155 residents and ratepayers in the Waikato found 81 per cent of those asked supported the train.
SHUNTED OFF
* Hamilton train services to the quarter-finals in Auckland have been cancelled.
* Only 23 tickets were sold for both matches.
* Services for the semifinal and final will still run.
* Tickets are $90 return.
ON THE WEB
tranzscenic.co.nz