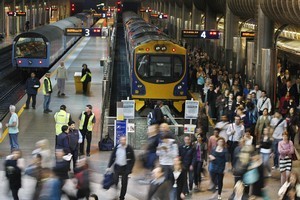 Auckland Council transport chairman Mike Lee believes KiwiRail should consider delaying long-distance train departures from Britomart to free up a slot for a Waikato commuter service.
That follows advice to his committee that Britomart will reach capacity in February, when it will have to cope with extra trains from the new Manukau branch line and an increase in services on the western line to a turnaround every 10 minutes.
A working party on which Mr Lee sits has accepted a likelihood of having to drop commuters off at the recently reopened Strand station below Parnell because of the Britomart bottleneck.
The morning Waikato train would end its run at Newmarket, before doubling back to Britomart to pick up passengers for a return journey.
Britomart could also be used to take off-peak passengers to central Auckland in a second daily service, but early-morning commuters would have to catch a bus from The Strand.
But Mr Lee, hoping to increase chances of success for a commuter service from Hamilton, persuaded his committee to recommend to the Waikato Regional Council that it work with KiwiRail to investigate delaying departures by the Overlander train.
He said the only way to create peak-time room at Britomart was for KiwiRail's Auckland-Wellington train to have its departure shunted past 9am.
He believed that would benefit the Overlander as well as Waikato commuters, who have an existing departure time of 7.25am.
Mr Lee said he wished the Waikato councils success in the interests of increasing transport choices between Hamilton and Auckland.
But although 11,500 people signed a petition in the Waikato calling for the new service, the region's councils have yet to ask their ratepayers if they would be willing to support a two-year trial, given that it is likely to require a first-year subsidy of $1.23 million.