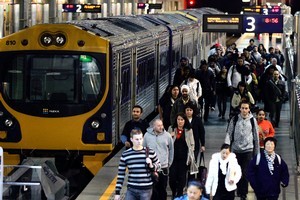 Auckland's first generation of electric trains are set to be running in three years under a $500 million deal signed this afternoon with Spanish supplier CAF.
The region's transport authority has selected the company, which has been making trains for more than 100 years and has supplied a dozen world capitals, over four other bidders.
The deal will include $400m for 57 three-car trains between September 2013 and the end of 2014. It will also include 10 years of maintenance cover at a cost of about $100m.
CAF, which stands for Construcciones y Auxiliar de Ferrocarriles, has already set up a New Zealand subsidiary company which will provide an unquantified number of jobs locally at a maintenance depot to be built at Wiri by Auckland Transport.
That will add another $100m to the project.
Transport Minister Steven Joyce, whose Government will cover more than half the cost of the new trains, said they would be "light years apart" from the old diesel units they will replace.
Speaking at the Britomart underground station over the noise of departing trains puffing diesel smoke into the air, he said the newcomers would be quiet, comfortable, environmentally friendly and even attractive.
They would support the regional and national economy by keeping the country's largest city moving.
Auckland Mayor Len Brown said the new trains would have double the acceleration of the existing fleet and he was looking forward to shaving 10 minutes off his rail trips from Manukau to Britomart.
They would be the vehicle for increasing annual rail patronage from 10 million to more than 17 million passenger trips by 2016.
CAF general manager Jesus Esnaola said that even with his company's large global reach, he was proud of the Auckland deal which represented its first foray in Oceania.
"As part of our commitment with New Zealand, we are announcing publicly today that we already created our new subsidiary, called CAF NZ Ltd, that will take care of the new fleet maintenance."
Auckland Transport chairman Mark Ford said he could vouch in advance for the quality of the new trains as they would be based on rolling stock used in London's Heathrow Express, which he had ridden in great comfort.
"The difference between them and the current trains will be dramatic."