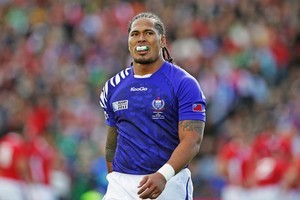 The International Rugby Board is under mounting pressure as it fends off suggestions that it is unfair and its punishment of rule-breakers is harsh.
The IRB - which is expected to make more than $300 million from this year's Rugby World Cup tournament while New Zealand makes a $39 million loss - has been heavily criticised for its strict rule over the tournament.
The tight scheduling of matches for second-tier teams, $10,000 fines because players wore an unapproved sponsor's mouthguards and a reprimand of a Samoa player have also been attacked.
The governing body even has to approve biblical verses some players scrawl on their wrist strapping.
Adding to the IRB's woes is the New Zealand Rugby Union's threat that the All Blacks will not go to the next World Cup unless it changes its rules on sponsorship.
Yesterday, two former All Black captains - Sir John Graham and Stu Wilson - hit out at the IRB, calling its $10,000 fines "ludicrous" and its treatment of the minnow teams unfair.
Samoan brothers Manu and Alesana Tuilagi, who play for England and Samoa respectively, were each fined $10,000 after it was discovered they had worn unapproved OPRO branded mouthguards.
Sir John said the size of the fines was "farcical" and "absolutely miles over the top". He understood the rules were there for a reason, but for the IRB to fine players like that was "dictatorially precious".
And Wilson, who is also a Sky Sports commentator, said the IRB had let itself down by imposing inconsistent penalties on minnows and top teams breaking Rugby World Cup rules.
"Letting two English officials get away [with ball-swapping] because it was handled internally is just bull-crap. They blatantly cheated.
"Versus the guy that had a mouthguard sponsor that only a dentist would have been able to pick up two inches from his face."
But the IRB's Rugby World Cup tournament director, Kit McConnell, said all teams were treated the same.
"We don't want to fine teams, we want to work with them to avoid issues and this has worked in the vast majority of cases.
"Unfortunately, in a very small number of cases, despite all of the discussions and the warnings, there have been some breaches.
"In those cases, we have treated each team exactly the same way."
The IRB has suspended another Samoa player, centre Eliota Fuimaono-Sapolu, because of his Twitter postings on what he describes as IRB "injustices".