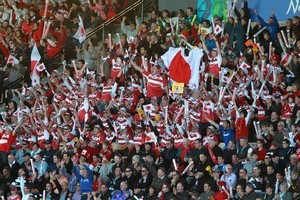 Crowds have been on their best behaviour during the Rugby World Cup with just 25 people arrested at matches out of more than a million who attended.
Police around the country are applauding World Cup crowds and say the 1.07 millon fans who attended the pool matches had been in good spirits, with incidents described as minimal and minor.
According to police figures, 25 people were arrested during the 40 pool games for alcohol and disorder-related incidents.
Another 114 were evicted from match venues and a number of fans were refused entry. The numbers are far lower than the 32 people evicted, one arrested and 12 fined at the one-off NRL grand final between the Warriors and Manly in Sydney on Sunday.
The capital recorded the most arrests during World Cup pool games with 12 from the six games played at Wellington Regional Stadium - just one arrest in 20,000 people.
It also topped the evictions with 35 people kicked out of the stadium.
Auckland came close behind with four arrests from five games - one in 75,000 people.
Another 29 people were evicted from Eden Park.
The nights where the most arrests were recorded were both in Wellington. On September 23 when Australia played the USA four people were arrested and 12 evicted. After the match police said most of the incidents were "simply cases of people overindulging in too much alcohol, spoiling it for the majority of fans".
On September 25 when Scotland and Argentina took to the field, five fans were arrested and 11 removed from the stadium.
Wellington RWC operation commander Inspector Simon Perry said the crowds had been exceptionally well-behaved with a very small number of people causing minor problems, which were largely alcohol-related.
The worst night at Eden Park so far was when Ireland demolished Australia. Three arrests were made for minor offences and 12 people were evicted.
Again, police said the majority of fans were well behaved.
Two arrests were made at matches in Napier, one in Nelson and none at any of the other venues.
Superintendent Grant O'Fee, national commander of the police World Cup operation, said reports from all the venues had been positive.
Police had focused on proactive alcohol management, interaction with rugby fans, supporting security staff at venue entry points and having the capability to identify potential trouble spots and dealing with them effectively.
"This has been our approach all along. It is working," he said.
Rugby World Cup spokesman Mike Jaspers said the tournament organisers were very happy with the behaviour of the crowds across the 40 pool matches.
"The police have played an important role in contributing to this and we have worked closely with them on security plans appropriate for an event of this scale and importance.
"This has helped to ensure a safe and friendly match experience for all fans.
"We hope this atmosphere continues for remaining matches."
ON OUR BEST BEHAVIOUR
* Whangarei (20,000 capacity) - 2 games, no arrests or evictions.
* Auckland (60,000 capacity) - 5 games, 4 arrests, 29 evicted.
* North Harbour (30,000 capacity) - 4 games, 0 arrests, 15 evicted.
* Hamilton (30,000 capacity) - 3 games, 0 arrests, 10 evicted.
* New Plymouth (26,000 capacity) - 3 games, 2 evictions,1 refused entry.
* Rotorua (26,000 capacity) - 3 games, 0 incidents.
* Napier (15,000 capacity) - 2 games, 2 arrests, 4 evictions.
* Palmerston Nth (18,300 capacity) - 2 games, 10 evicted, 4 refused entry.
* Wellington (40,000 capacity) - 6 games, 12 arrests, 35 evictions
* Nelson (20,000 capacity) - 3 games, 1 arrest, 2 evicted.
* Dunedin (30,500 capacity - 4 games, 6 arrests, 7 evictions, 5 refused entry.
* Invercargill (16,500 capacity) - 3 games, 0 incidents.