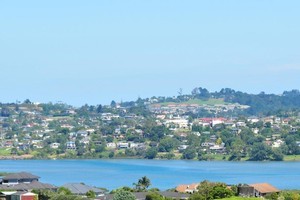 Residents who objected to Auckland Council about a plan for five-storey buildings have been told that enjoying a peep of the sea over vacant land next door is a privilege, not a right.
The message - from council-appointed planning commissioners - has struck a sour note with Orewa residents who fought a private plan change to rezone a 15ha former camping ground to allow 690 households, including five-storey apartments.
In a reserved decision, the independent hearing panel of David Hill and Melean Absolum said they needed to respond to many of the 115 submitters who were concerned about how the proposed development would affect their "personal visual amenity" along the western boundary.
Neighbours asked the panel to require the reinstatement of the development's layout as had been agreed with Patrick Fontein, the founding developer whose company went into receivership in 2008 and is now owned by John Sax's Kensington Properties.
This would have restored at least part of their sea and bush views.
However, the panel said Mr Fontein's master plan was an indicative concept without formal status.
Kensington Properties, which was requesting the plan change, was not bound by the earlier plan.
The panel said the applicant had self-imposed a 9m height restriction along the western boundary.
Buildings here were closer than under the Fontein master plan, but generally conformed to the permitted development controls of the existing zone provisions.
"There is, therefore, no statutory planning ground for objection on that basis," said the panel.
"As so often has been observed in similar planning cases over the years, amenity that is enjoyed principally because land is hitherto undeveloped is a privilege, not a right and, consequently, the loss (or perceived loss) of such amenity by the construction of a complying development is, at best, unfortunate, but is not a matter that can weigh heavily in any decision."
Objector Fran Connors said he was unhappy with that message.
He had lived next door to the development for four and a half years.
"The reason we bought was because we had assurances of our view and now we will lose probably three-quarters of our view.
"We reckon that the price we paid for the house is $100,000 more because of that view and now we are going to lose it."
Real Estate Institute chief executive Helen O'Sullivan said prospective buyers should always bear in mind the risk of losing a view should vacant land be developed.
"You have to imagine what it could be like in the future, given what development is permitted for that site."
Agents should disclose any proposed development they were aware of, she said, but the purchaser should check the District Plan and proposed changes to the zoning or pending building consents.