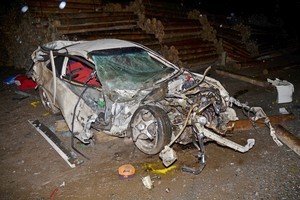 A young man died and three others were injured when a speeding car carrying four young people collided head-on with a truck last night in Tokoroa.
One witness described the scene as "carnage".
The injured trio were taken to hospital after the accident on Old Taupo Rd, near the Kinleith Paper Mill, at 7.51pm.
Police said the car was speeding and left the road before the driver, attempting to regain control, pulled the car back on to the road and into the path of a logging truck heading in the opposite direction.
A witness told the Herald the car "filled with young people" tried to take the corner too quickly and lost control.
The man, who did not want to be named, was at his house on Old Taupo Rd when he saw the car go speeding past.
"Then they lost control and went straight under the front of the truck."
He ran down to the road after hearing a big bang and found the mangled wreckage of the car.
"There was just carnage everywhere ... It looked like the car went into the front of the truck, then bounced off it and went out the back of the truck.
The car contained three young men and a teenage girl and the witness said two of them looked "really badly injured" as they were taken to Tokoroa Hospital by ambulance.
One of the passengers was critically injured and died at the crash site.
Police declined to release any more information until next of kin had been informed and the Serious Crash Unit had completed an examination.
Last night's death took the Waikato road toll to 40 this year.
A recent Government study showed more people have died on Waikato roads than any other region in New Zealand with 677 people killed between 2001 and 2010 - with 70 per cent of fatal crashes on rural roads.
The total social cost of serious and fatal crashes to the region was estimated to be $545 million last year alone.
The data on crashes and their contributing factors was published last month by the New Zealand Transport Agency to give a snapshot of trends in road safety.