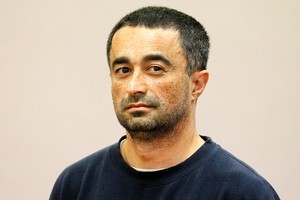 The Court of Appeal has reduced the sentences of two men who stole 96 valuable medals from the Waiouru Army Museum.
Career criminals Ronald van Wakeren and James Kapa outraged the nation when they were paid a $200,000 reward for the safe return of the military treasures, stolen from the museum in December 2007.
They were handed prison sentences of 13 years, three months and 14 years, six months respectively after pleading guilty .
They appealed against those sentences on the grounds that they were excessive.
In a decision released today, Justice Ronald Young partially upheld their appeal and reduced van Wakeren's sentence by one year and Kapa's by one year and three months.
Van Wakeren's minimum non-parole period was also reduced from seven to six years and Kapa's from seven years and nine months to six years and six months.
Van Wakeren also had two money-laundering convictions quashed on the grounds that there was insufficient evidence he was actually trying to conceal the money he had made from robbing pokie machines.
This was one of countless crimes committed by the men, who have more than 420 convictions between them.
Van Wakeren's lawyer Gary Gotlieb had argued that the sentencing judge had not given enough credit to mitigating factors when passing sentence, including the fact that van Wakeren had arranged for the return of the medals, and that he had returned his share of the reward.
He also argued that the discount he received for his guilty plea and remorse was inadequate
Kapa's lawyer, Marcus Edgar, said van Wakeren had received a lighter sentence than his client because he was already in jail, but this was not fair because they were equally culpable.
Kapa never returned his share of the reward, but Mr Edgar said this should not be an aggravating factor because the money had been uplifted by a third party and Kapa did not know where it was.
Justice Young said the men's crimes were right at the top of the scale for property offending.
"This offending was serious enough but the burglary and theft of the 96 valour medals from the National Army Museum brought understandable outrage from New Zealanders and added a whole additional dimension to the offending. This was the theft of an important part of New Zealand's history and culture, as well as being the theft of items which had great monetary value at over $5 million.''
Van Wakeren and Kapa broke into the Waiouru Army Museum in 2007 and stole 96 medals, including the Victoria Cross won by Charles Upham.
In February 2008, the medals were returned after a deal was brokered by barrister Chris Comeskey.
- APNZ