Each Monday, we bring you the best and the worst of the previous week's Rugby World Cup action.
Today: Group hug for one classy five-eighths who'll have the world on his shoulders right now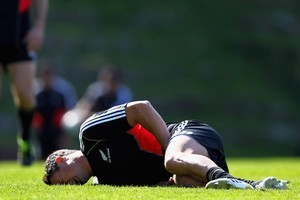 GOOD BUGGERS
DAN CARTER
Look champ, we know you'll be feeling like you're living a slow death from here on in to October 23. Take some solace in the fact that thousands, possibly millions, feel your pain. We have spent literally minutes trying to think of ways to cheer you up and this was the best we came up with: a well-earned spot in Good Buggers.
Yes Frans Steyn, we'll miss you and your pitch-shrinking right boot - but not as much.
TONGAN FRONT ROW
These are the moments that make World Cups great. Tonga nursing a lead late in the game, knowing they had France beaten; France turning a penalty into a scrum as they looked to salvage some pride.
Were Tonga relaxed, knowing they had the game won? Fat chance.
There was hooker Aleki Lutui imploring his boys for one last big push. They were pumped and didn't care who knew it.
Flanked by Halani Aulika and Alisona Taumalolo, they huffed and they puffed and gave it everything and a bit more to stop France getting on the front foot.
It was brilliant to watch and reassuring to know how much the small battles matter.
As it was, France scored, shifting it quickly from the base of a solid scrum. It didn't detract one bit from the theatre of the previous minutes, however.
ANTHEM SINGERS
You guys are really good. So good, in fact, that if we were World Cup organisers, we'd be moving mountains to find somewhere for you guys to watch the match afterwards, not shepherding you out of the grounds like some second-class citizens.
Funny things choirs. The more you watch them the more you realise they're a microcosm of society. You get your loud-mouthed extroverts, your quiet achievers, your high and your lows and then there's those who act as the glue to bind the whole thing together.
Best anthem? Hard to go past France's La Marseillaise (original title: War Song for the Army of the Rhine) with its famous lyric, "Do you hear, in the countryside, The roar of those ferocious soldiers? They're coming right into our arms, To cut the throats of our sons and women!"
Argentina's is not bad, with a long lead-in that slowly boils the blood, before belting out: "Hear, mortals, the sacred cry, 'Freedom! Freedom! Freedom!' Hear the noise of broken chains, see the noble Equality enthroned.
Worst? Not a big fan of Japan's dirge, to be honest.
BAD BUGGERS
THE IRB
C'mon guys, you're just making this too easy.
You seriously expect us to believe justice has been done by allowing England, who travel with a QC for these exact reasons, to impose their own sanctions for blatant cheating?
You know as well as we do that England tried the same thing in their opening match against Argentina and it was only the vigilance of referee Bryce Lawrence that prevented them getting away with it. In other words it was premeditated and ongoing cheating. But don't worry, you guys focus on the big issues, like correctly branded mouthguards.
Yes, Samoa deserved to be sanctioned. It was dumb on Alesana Tuilagi's part and it would be condescending to let it pass just because they're an impoverished minnow, but how about turning it into a positive?
Make Tuilagi donate a couple of his jerseys, signed by all his teammates, to a charity auction for the Christchurch Earthquake appeal, rather than gleefully demanding a cheque for US$10,000 ($13,140) be placed into your Swiss bank account. If the items did not reach the required amount, make Samoa Rugby pay the difference. That way, everyone wins.
NIGEL OWENS/ HEINRICH BRUSSOW/ PAUL WILLIAMS
Let's deal with this trio in descending order of bad-buggerness.
Nigel, we shouldn't blame you for the Williams send-off - you received bad advice - but we will blame you for getting a ridiculous number of calls plain wrong, most pivotally on Samoa wing David Lemi for not releasing the ball when he wasn't held.
Heinrich, you crumple in a heap when you're slapped with an open hand? No wonder you're so injury prone. Man up.
Paul, if Samoa had progressed into the knockout stages, you would have been in line for player of the tournament. Brave and skilful on the pitch, classy off it, but what were you thinking when you reacted to Heinrich quite rightly trying to get you to let go of him? Yes, it wasn't much of a slap (if you knew that you were going to get sent off, would you have properly clocked him?), but you're too valuable to your side to risk a red card.
KIAORA (Air NZ in-flight magazine)
What on earth were you guys thinking when you ran back-to-back features of Richie McCaw (Master and Commander) and Dan Carter (The Navigator) in your newly minted October issue. Ever heard of tempting fate? Some might blame rotation for the injuries, some might blame sheer bad luck, but we're blaming you. When you introduced the Carter feature by writing, "After two World Cup disappointments, he plans on making this tournament third-time lucky", did you not see what you were doing?