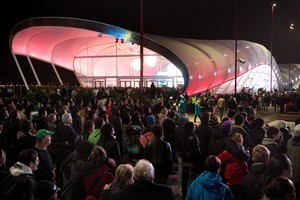 Auckland's public transport system is gearing up for high demand from early this afternoon as thousands of Tongan fans swell Party Central crowds for a double dose of rugby celebrations.
Up to 4000 Tongan supporters are expected to join many other revellers under big screens at the waterfront fan zones to cheer their team's last Rugby World Cup fling, which kicks off against France in Wellington at 6pm.
Fan zones spokesman Peter Winder, of the Ministry of Economic Development, expects to have to open Captain Cook Wharf during the afternoon as a back-up to Queens Wharf, which has a maximum crowd capacity of 12,000 people.
Mr Winder said World Cup organisers were expecting a far longer attendance peak today than over the past two weekends, because of the combination of the Tonga-France match and the England-Scotland clash at Eden Park from 8.30pm.
Rail operator Veolia will meanwhile have three standby trains parked at the newly reopened Strand station and more than 100 contingency buses available in case Britomart or other parts of its network become clogged up.
Although these are mainly focused on ensuring fans get to Eden Park on time for the evening game, spokeswoman Brooke Donovan said the company would monitor the network with Auckland Transport throughout the day and could bring in the buses at short notice. These would be in addition to about 100 extra train runs to and from Eden Park from 5.37pm. Maori wardens will be posted on each carriage to provide on-board security.
Auckland Transport communications manager Wally Thomas urged match-goers to travel early to Eden Park to beat the crowds.
Entry to Britomart will again be reconfigured from 4pm to keep those headed for Eden Park separate from other rail users, and there will be road closures around the stadium from 5.30pm before its gates open at 6pm.
Bond St and the northern end of Sandringham Rd will be closed from 5.30pm, and New North Rd through Kingsland village will be shut to traffic before kickoff until two hours after the final whistle.
Buses will run to Eden Park from outside the Civic Theatre in Queen St every five minutes before the game, from Albany and Newmarket every 10 minutes, from Takapuna every 15 minutes and from Manukau every 30 minutes.
Extra trains and special event buses will also be available tomorrow afternoon to carry league fans to Mt Smart Stadium to watch the NRL grand final from Sydney on big screens.
The Transport Agency is meanwhile urging rugby fans heading to Hamilton's last World Cup match, kicking off at Waikato Stadium between Wales and Fiji at 6pm tomorrow, to travel early.