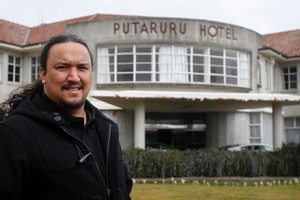 On the menu is his signature dish: venison cooked medium rare with kumara rosti, cauliflower puree and creamed spinach topped with raspberries and sherry vinegar - just don't ask him for cupcakes.
MasterChef cult hero Cameron Petley has given up farming chickens to deliver his take on local fare as head chef at new Putaruru restaurant The Master's Table, which opens on Thursday.
Dishes he presented on the television series, including his highly rated venison sourced from the Mamaku Ranges, surf and turf, and lamb rack with peach chutney, will all feature. But things you won't find on the menu are cupcakes, which saw his exit from the show, and wild game the keen hunter has just shot.
"Everything we will source locally or we will try our hardest to, but by law we can't really serve wild game in the restaurant unless it's MAF approved. There won't be no cupcakes on the menu. I found out today we have ourselves a pastry chef. She'll be taking care of that and the desserts, not me."
While he's not complaining, life for Petley has changed since his father told him to audition for MasterChef to see if he could do better after he berated contestants in the first series.
After gaining a cult following on the show for his down-to-earth personality and simple cuisine, Petley has been honing his skills cooking at fundraisers for his children's kindergarten and at Tokoroa Italian restaurant Al Burico's, learning more about the intricacies of sauces, pastas and even how to cook the perfect medium-rare steak.
"People didn't know I was working there but when they did they started asking, 'Can we have the venison?'
"But it was an Italian restaurant and they don't do venison so it will be good to get out and do my own things."
Petley has also been fronting advertisements for sauce Voila and has batted off offers to work in Auckland. While he's open to suggestions and admits he will have to leave Putaruru if he wants to improve his skills, for now he's happy to stay in the small South Waikato town.
"I don't really want to leave home and work a 70-hour week in the city for peanuts when I could stay home and work for peanuts," he said.
"If I go elsewhere, to the city, I'd have to give up hunting and that's a pretty big part of my life. This was something local and just down the road and I thought, 'Yeah, sweet as'."
Petley is also working on a cookbook to be published by Random House and likely to be on shelves early next year. It will feature some of his best hunting, diving and fishing yarns.
"There will be a few paua recipes, and others with crayfish, kina, trout and eels. It's just the food I have been brought up catching and doing something else with it."