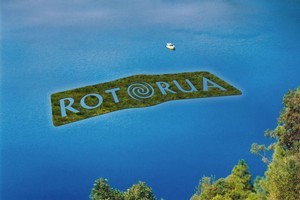 Forget Wellywood - the city name Rotorua is set to be emblazoned across what is believed to be the world's largest man-made floating wetland.
Plans for the rugby field-sized floating island - which will involve the recycling of more than half a million plastic soft drink bottles into a 5100sq m floating fibre mat - were revealed yesterday afternoon after four months in the pipeline.
Cutouts in the densely planted wetland island surface will be formed in the shape of the word "Rotorua" - clearly visible from above.
It is estimated that the floating island will remove up to four tonnes of nitrogen and more than 1000kg of phosphorus from the lake every year.
The $900,000 environmental initiative is a partnership of the Rotorua District Council, Bay of Plenty Regional Council and Te Arawa Lakes Trust.
It follows the successful development of a smaller-scale floating wetland on another Rotorua lake, Rotoehu, this year.
Rotorua mayor Kevin Winters said the building of a large-scale wetland was an environmental consent requirement to compensate in part for reducing an area of land-based wetlands when the city's airport runway was extended recently.
Rotorua District Council's investment in the project would be $450,000.
"Because floating wetlands have proved substantially more effective as environmental remediation tools, this project's focus is on a lake-based wetland device rather than land-based wetlands," Mr Winters said.
"To maximise effectiveness it needs to have 'cut out' areas within the island so we are taking the opportunity to form these into the shape of the letters that make up the word 'Rotorua' - the name of the district and the lake.
"To our knowledge this concept will be a world first, as well as the largest project of its type in the world."
The wetland is expected to be complete by the end of the year.