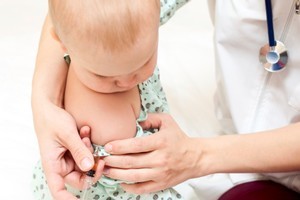 West Coast health authorities are offering free booster vaccines to adults in an effort to protect young children and babies as the region's whooping cough (pertussis) outbreak continues unabated.
Authorities will provide free vaccines to health care and early childhood education staff, or to anyone living with a baby under the age of six months. This includes parents, other adults and siblings.
West Coast medical officer of health Cheryl Brunton said the very young were most vulnerable to the potentially severe outcomes of contracting whooping cough.
"We are asking those who most commonly come into contact with this vulnerable group to protect them by having the booster vaccine themselves."
Whooping cough immunity waned with age, so older people could contract it and pass it on to others even if they had been immunised or had the disease as a child, Dr Brunton said.
Between May 1 and September 25 the Coast had 175 notifications of suspected whooping cough. To date, 84 have been confirmed - 20 more than a week ago.
The outbreak continues to be centred in Westland with most cases occurring in children.
Dr Brunton urged parents to keep children home from school or preschool and stay home themselves, if they developed a persistent cough.
"The incubation period for pertussis ranges from 5-21 days. So if someone goes to work, school or pre-school with a persistent cough, by the time they find out they have pertussis the damage has probably been done as far as spreading it to other children and workmates.
"It's really important to see your doctor early if you are unwell with a persistent cough so that you can be assessed and treated with antibiotics if necessary, to help to prevent spread of this disease," Dr Brunton said.
The best long-term protection against whooping cough was still on-time childhood immunisation, she said.
"Immunised children may still develop whooping cough but it is usually not so severe. Immunisation against pertussis is free as part of the National Childhood Immunisation Schedule."
- APNZ