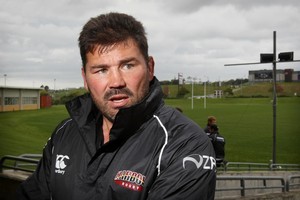 Pass him the bucket - former England hooker Brian Moore says the New Zealand Rugby Union's comments that it wants the best for the game make him want to vomit.
The rugby columnist accused the NZRU of "explicit blackmail" after its chief executive Steve Tew warned the All Blacks may not play at future rugby world cups because of the financial losses it incurs.
Tew said the NZRU stood to lose more than $13 million at RWC 2011, laying the blame on a rule preventing participating nations from working with their sponsors during the tournament because of conflict with the cup's own sponsors.
But in Britain's Daily Telegraph, Moore said NZRU did "greedy deals with sponsors ... deals which lessen the value of RWC's commercial rights from which they are funded".
"They want what is best for world rugby? Excuse us whilst we vomit."
Moore claimed the English rugby team were as big a draw as the All Blacks and contributed more cash to the game than any other team.
"If you had to pick a country to play in your national stadium the All Blacks might be that country. But the RFU fills Twickenham for games against South Africa, Australia and all Six Nations games," he said.
"As they cannot sell more than the capacity, all those other teams produce as much money as New Zealand, and therefore are their equal in terms of attraction."
Former All Black Craig Dowd said he had not read Moore's statements but said he probably had a point.
"Brian Moore is right with the fact that they fill stadiums over in the UK and they make a lot of money out of rugby ... there are 60 million people [in the UK] and you will fill a stadium over there."
He said there could also be some truth to Moore's claims the NZRU was being greedy and doubted whether it would make good on its threat for the All Blacks to boycott future tournaments.
"We prostitute ourselves by going to Hong Kong and playing 15 test matches a year, so we are greedy.
"At times the NZRU say we are doing it for money to put back into the grassroots and of course they are so we can't say 'hey, we are holier' on one hand and on the other hand go and do what we are doing making more money.
"Steve Tew has made a really big call but I don't believe it that there's any backup behind it that we won't go to the World Cup because that's what every player wants to do."
But another former All Black, Andy Haden, endorsed the NZRU's hardline approach and said it had to be prepared to back up its threat of withdrawing the All Blacks from future tournaments.
"Why would we go year by year and world cup by world cup into greater debt to get a team into the tournament?
"I think it's normal, practical business sense to look after your own and as Tew pointed out, the bigger unions going out of business is far more damaging to the game than not setting up for the world cup."
Haden said the IRB wanted no part of the RWC during the 1980s but was eventually pressured into changing its mind in a short space of time in 1985.
"What forced them to come to their senses then is not dissimilar to what Tew is putting across now.
"Absolutely drastic measures - they don't listen to any other language."