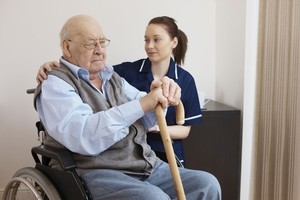 About 18,000 rest home caregivers who now earn just above the minimum wage could get pay rises of about 20 per cent if Labour wins the November election.
Labour's aged care policy, published yesterday, promises to raise the caregivers' wages to parity with healthcare assistants in public hospitals, at a cost of $100 million to $200 million a year, "as Budgets allow".
It also promises to restore regulated minimum staffing levels in rest homes, which it abolished when it was in power in 2004.
Party aged care spokeswoman Steve Chadwick said Labour realised staffing regulations were necessary when it held a joint inquiry with the Green Party last year.
"There were reports we heard at the inquiry of nurses under incredible pressure having to work long hours and looking after far too many patients to give quality of care.
"One nurse said the numbers of caregivers were so low that they just couldn't do what they knew the older people needed in terms of the standard of care."
Labour also refused pressure from unions and rest home owners to fund pay rises for rest home staff after nurses and healthcare assistants in public hospitals won a historic 20 per cent pay rise in 2005. But Ms Chadwick said the party was now committed to boosting training and wages for rest home staff, with higher pay for staff who gain national qualifications.
"It's the same as in the early childhood sector. In 2002 [former Education Minister] Trevor Mallard said your children in childcare and early childhood education should be taught by teachers who will be qualified by the state. We are doing exactly the same for old people."
Nurses Organisation aged care adviser Rob Haultain said the policy would mean pay rises of between 16 and 27 per cent for caregivers in the country's biggest rest home operator, Oceania Group. Their starting rate would jump 20 per cent from $13.61 an hour, just above the $13 minimum wage, to $16.28.
She said the union's rest home members were on "poverty wages".
But Aged Care Association chief executive Martin Taylor, representing rest home owners, was sceptical.
"We called for pay parity in 2005 and Labour refused when they were running billion-dollar surpluses," he said. "Therefore I find it extremely hard to accept that they will do it in an economy where they are running billion-dollar deficits."
National Party Health Minister Tony Ryall said Labour was promising "yet another review, another investigation, another committee". He said: "The ideas could cost tens, if not hundreds, of millions of dollars a year if they ever come to fruition."