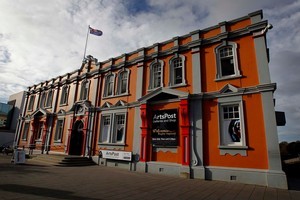 Developers wanting to build a $20 million hotel in front of the ArtsPost site on Hamilton's Victoria St say they will pay $1 million for the land if the city council matches that amount.
The council has stated that potential developers of the site have to work in with its plans for an arts precinct on the land.
Last month Rotorua's Te Arawa Group Holdings made an offer of $1 million for the land, but now says it is only prepared to pay it on the condition council invests the same amount. The other option was the group's original offer to buy it for $1, which was dismissed by the council last year.
Councillors were to discuss the latest offer yesterday at the closed part of the council meeting, but it has been deferred to today because of the time taken to discuss the V8s.
Te Arawa also wants the council to guarantee an 8.5 per cent return on investment capped at $150,000 per year for 10 years to safe-guard its investment.
The total deal would leave ratepayers contributing up to $2.5 million to the third hotel in the CBD.
The council, at a closed meeting last month, agreed in principle to support the project but asked for more information about the design, size and how it would be integrated with the river. The vacant ArtsPost land had been earmarked as an arts and cultural precinct.
Te Arawa is proposing a 150-room four-star hotel on the site and the new building would be attached to ArtsPost.
The negotiations began when former Hamilton mayor Bob Simcock and chief executive Michael Redman approached the commercial arm of Te Pumautanga o Te Arawa more than a year ago, and include the developers taking over the ArtsPost site to use as the hotel lobby. The group represents and manages Treaty of Waitangi claim settlements on behalf of 11 Te Arawa hapu.
But Hamilton heritage consultant Ann McEwan said attaching a bigger building to the former Post and Telegraph building built in 1901 could affect its charm. "What if there's an eight-storey building built? In layman's terms it looks like someone's got their knickers around their ankles. It's playing lip service to 'yes it is a heritage building but what a nuisance'."
The major tenant of the ArtsPost, Waikato Society of Arts, has also pleaded with the council to keep them in the loop about its plans for the site. President Diane Yates said there was some concern they would be left out in the cold.