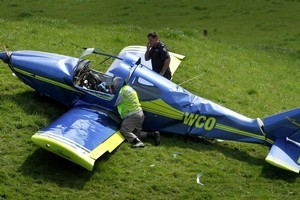 A Bay of Plenty man has told how he "started motoring" as a stalled plane plummeted and slammed into a nearby hillside, almost killing its pilot.
Guy Jones had just finished feeding chickens when he heard the light aircraft's engine begin spluttering shortly before 10am yesterday above his rural lifestyle block, about 15km south of Whakatane.
The pilot, 49-year-old Waimana farmer Christian Schadler, had decided to take his home-built plane up for a flight between milkings.
Mr Jones said the sound of topdressing planes overhead was common - but it was the engine's struggling that made him look up.
"He was coming down in a clockwise spiral and his motor started spluttering, then it cut out altogether," Mr Jones said. "I was waiting for him to get it going again but he couldn't. At that stage, I put down what I had in my hand and started motoring, because I knew he was going to come down."
The plane crashed about 250m away as he dashed through paddocks towards it.
Mr Jones said there was a delay between the plane hitting the hill and a "huge thud" which followed.
"When I was running, I was just hoping to find someone alive - and if they were in there, to get them out as fast as I could."
As he neared the plane, he noticed an arm moving, then saw Mr Schadler slumped out of the cockpit. Mr Jones feared the plane might catch fire. He draped the injured pilot over his shoulder and helped him to safety at the top of a hill.
His 9-year-old daughter, Nicole, watching from their house, phoned emergency services while her father comforted Mr Schadler.
"He was coherent and talking to me," said Mr Jones. "I just asked his name, what he did, and just kept talking to him until the emergency services turned up."
Mr Schadler was flown to Tauranga Hospital in the TECT helicopter with injuries to his lower back and sternum and was last night in a stable condition.
Mr Jones had no doubt the crash would have been fatal if the plane had not landed flat.
Senior Sergeant Bruce Jenkins of the Whakatane police agreed it had been a close shave. "I would say that the pilot is extremely lucky ... probably one of the luckiest people alive today."