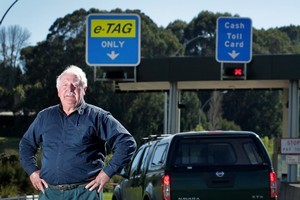 Multimillionaire businessman and former Tauranga MP Bob Clarkson will lead a fight to scrap toll roads into the city as its council proposes a contentious rise in fees.
The property developer, who represented National in Parliament for three years but switched his allegiance to Act this year, is outraged at a proposal by Tauranga City Council to raise car tolls into its Route K expressway and believes the city is not big enough to justify charging its motorists.
Mr Clarkson says he is getting city business leaders together to fight the plan.
Under a draft bylaw to come into force next year, tolls for cars would climb to $1.50 from $1 - the fee since the route opened in 2003. Tolls would remain the same for three-axle light trucks at $2 and heavy trucks at $4.
The council hopes the increase will help to tackle the $60 million debt burden the road has racked up since then.
But Mr Clarkson has slammed the move as "diabolically bad". He favours an arrangement where the route would be paid for by a combination of government funding and loans repaid in rates. "Why don't we pay tolls out of rates and get rid of the bloody things?
"I'll be having some harsh words with the council. I'll be getting a team behind me and I'll be in there in force ... I believe you should only have inter-city tolls - and not into cities." Mr Clarkson also opposes the $2 toll for Tauranga's $455 million Eastern Arterial Link, set to open in three to four years' time.
Tauranga Mayor Stuart Crosby said the council's goal was to transfer ownership of the route to the Crown, owing to its strategic importance as a direct route to the Port of Tauranga. "In many ways, I agree with where Bob's coming from with transferring debt to the Crown, and those discussions have already started."