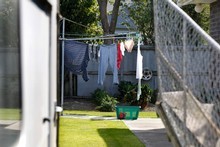 Post mortem examinations have been completed on the bodies of an elderly couple in Kaiapoi, who died in the yard of their home in Kaiapoi, just north of Christchurch.
Both had suffered a single gunshot wound.
A pathologist is in the process of preparing an interim report on the cause of death.
A distraught long-time friend and neighbour of the couple has said accomplished sharp-shooter Donald Lachlin Campbell, 77, shot his partner Lesley Margaret Thomas, 63 on Tuesday afternoon and then turned the gun on himself.
Police are not looking for anyone else in connection with the deaths, and say murder-suicide is one possibility being investigated.
The couple's neighbour, who heard the gunshots, told the Herald Mr Campbell shot Ms Thomas - his partner of more than 25 years - as she walked down a path outside their home.
Mr Campbell then shot himself and collapsed on the lawn in the yard, she said.
The day the couple died, Mr Campbell had not stopped for a chat with neighbours as he usually did. He suffered from diabetes and other health problems which had worsened recently, she said.
"Something must have gone wrong in Don's brain. I don't think he could help what he did. To me, he always came across as a calm and nice man."
The friend said when she heard the first shot she was in disbelief. She thought Ms Thomas had had the guns removed from the property while it was on the market.
The couple had planned to sell up and move south, she said.
When the second shot rang out, the friend said her husband could see smoke coming from the side of the garage where Mr Campbell had been. Neighbours went on to the property and found the couple dead.
"They were marvellous people. You couldn't have nicer neighbours."
Ms Thomas was "awfully caring" when it came to Mr Campbell, the friend said.
Another person, who knew the pair and asked not to be named, said he understood only Ms Thomas was planning to move south after the sale of the house.
"There were a few personal things there I think ... and health [issues]," he said.
Detective Senior Sergeant Tony Hill said the sequence of events seemed clear.
"But there's still a considerable amount of work to be done to confirm the facts that are before us at the moment. Over the course of ... probably the next two or three days we will try to corroborate those."
The scene at the Sidey Quay address was released overnight last night.
Investigations are now focusing on interviews with family and anyone who may have had contact with the dead couple.
By Jarrod Booker

Email

Jarrod