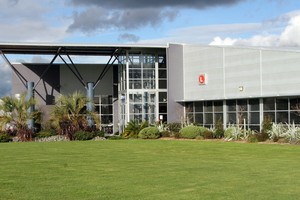 Plans for Hamilton's long-awaited multi-court indoor recreation centre could fall over once again if the city council decides against contributing $12 million.
Wintec has agreed to provide land valued at $2 million, and the newly formed Hamilton Community Indoor Recreation Centre trust is in discussions with various funding groups to secure a further $4 million towards the estimated $21 million project.
The aim is to have the nine-court facility with spectator seating completed by 2013/14.
The centre would cater for a number of sports - including netball, basketball, volleyball and hockey - whose growth has been stifled as they have outgrown the city's current facilities.
Wintec chief executive and trust chairman Mark Flowers said the trust needed at least $12 million from the city council for the project to go ahead.
The design and planning had been completed, and the trust had attracted members with expertise in PR, marketing, sports management and capital development projects who would oversee the building and management process, he said.
Sports such as basketball and volleyball cannot use the city's existing facilities.
The Waikato Bay of Plenty Football Association is also in early discussions to build its proposed Home of Football at the Avalon campus, which could potentially reduce the amount of funding required from the council for both projects.
But the council's commitment of $12 million signalled in its previous Long Term Plan is up in the air, with several councillors saying yesterday it would be sending a wrong message to the community by funding the project when it is cutting in other areas.
The indoor recreation centre had originally been part of the council's plans for the Claudelands Events Centre before being replaced with an arena for high-level sports only.
Hamilton Mayor Julie Hardaker supported the community leading the project and encouraged the trust to come back to the council with funding options.
The council will discuss where the indoor recreation centre sits on its priority list on October 25 when it looks at cutting$500 million from its $1 billion capital programme.
FUNDING MODEL
* HCC $12m (confirmed).
* Wintec land $2m (confirmed).
* Tentative funding from trusts $4m
* Naming sponsors and fundraising $3m
* Total $21m
THE COMPLEX
* In Wintec's Avalon Drive complex.
* 200 carparks.
* Nine netball/basketball-sized courts.
* Changing rooms.
* Storage and administration space.
* Seating for spectators.
* 250,000 participation visits a year.