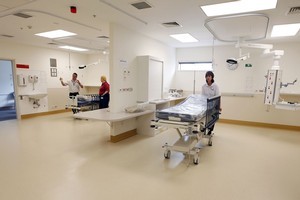 The number of elderly Maori and Pacific Island patient consultations is predicted to skyrocket by almost 500 per cent each year within 15 years.
The sobering figure was presented to members of the Waikato District Health Board yesterday as they were briefed on the consequences of an ageing primary health care workforce colliding with an ageing population, where the incidence of obesity, heart disease, diabetes and hazardous drinking is on the rise.
Maori and Pasifika consultations with GPs were forecast to increase 498 per cent annually by 2026 for those aged 85-plus.
At the same time, visits to the doctor for the rest of the population aged 85-plus were predicted to increase 118 per cent.
But the table, which formed part of an analysis of the Midland region including Waikato, Bay of Plenty, Taupo and Taranaki and was released by the Pinnacle Group in 2007, showed consultations for children and adults under 45 would drop.
Consultations for Maori and Pacific Islanders were estimated to increase across all age groups.
The figures were part of a presentation to Waikato DHB's new community and public health and disability support advisory committee by planning and funding general manager Brett Paradine.
He told the committee primary health care in the region, including GPs, practice nurses and practice managers - predicted to retire in their droves by 2016 - faced a future where demand outstripped resources.
"We have to become more efficient at what we're doing because our resources simply won't grow at the same rate."
Board member Ewan Wilson said individuals should be responsible for looking after their health.
"You have people who eat poorly, you have people who smoke, you have parents who send children to school without proper meals," Mr Wilson said.
"We have an imminent need in secondary [health care] and to get any sort of shift in primary [health] will take a lot of money because we need social change and people are not looking after themselves."
But board member Andrew Buckley said people did not "harm themselves" intentionally. "They find themselves in these situations as a consequence of their environment. Empowering them, helping them, is the solution."
But Mr Wilson said it was "a little bit tough" to blame society.
"Forty per cent of Maori still smoke. Statistically, that's horrendous. We've thrown copious amounts of money at these projects."
However, board member Sharon Mariu said it was not down to the individual, but to a whanau. Although Maori smoking statistics were still high, fewer younger Maori were taking up the habit, she said.
Committee member Professor Ross Lawrenson said New Zealand was a world leader in stopping smoking.