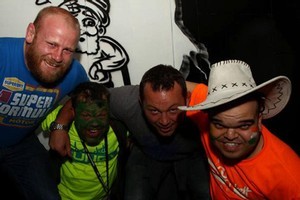 The All Blacks can't tweet, the Italians can share an evening coffee with their partners and while the Boks have been nabbed stealing signs, the Argentines "don't need to be told not to rob".
Player can make headlines for all the wrong reasons during a six-week tour in a strange land, and many Rugby World Cup teams have set down guidelines for their players.
A Herald survey of teams revealed many were cagey about revealing what, if any, rules their players abided by.
Teams such as Wales and Australia flatly declined to reveal team protocols, but other squads said there were no strict "do nots".
"You don't need to be told not to rob," a member of the Argentina team's management reasoned.
"You know that you are part of a team and are in the World Cup and you have done a lot of prep and effort to be here."
A group of Springbok players hit the headlines last week after taking a sign from a Matamata pub as a prank while driving unaccompanied from Auckland to Taupo.
News of the incident spread like wildfire through the town and on to national and international newsrooms, demonstrating the scrutiny an event such as the World Cup creates.
The highest-profile victim of that pressure has been stand-in England captain Mike Tindall, who was caught getting close to a mystery woman on CCTV footage illegally released by a Queenstown bouncer.
Tindall has now been joined by his wife, Zara Phillips - granddaughter of the Queen - and has vowed there will be no more big nights out drinking for the England team.
England coach Martin Johnson may have wished Tindall's royal wife had arrived sooner - when he was a player in the 2003 World Cup tournament in Australia, he said partners were a stabilising influence on a team.
"Wags" - wives and girlfriends - have been the subject of heated debate during sporting events. Critics say their presence is a distraction, but many have made the long journey to New Zealand.
Italian media manager Andrea Cimbrico said players were free to see their wives or girlfriends on their one day off a week.
"And in the evening if one guy wants to have a coffee with his wife, we won't say no."
Mr Cimbrico would not divulge rules about sleepovers during the cup, but said usually wives and girlfriends could spend the night in their partner's hotel room only on the night after a match.
All Blacks manager Darren Shand said their policy regarding players' partners had been established for many years.
"Given that the players share hotel rooms when we are assembled, players' partners can stay at another hotel close by or in another room in the hotel."
An agreement between the All Blacks and the New Zealand Rugby Union outlines behaviour expectations for the squad.
The only rule introduced for the tournament is a ban on players using personal Twitter accounts.
That was largely in response to players such as Cory Jane, who escaped punishment two years ago after tweeting he had missed All Black selection before the official team announcement.
Coach Graham Henry said at the time that he had to find out what Twitter was, adding that he "thought he was new five-eighths playing for England".
SQUAD RULES
Italy: Wags okay, once a week.
All Blacks: No tweeting, partners in different rooms, hotels.
England: No more big nights out.
Australia: Protocols secret.Rules are to stop players hitting the headlines for the wrong reasons