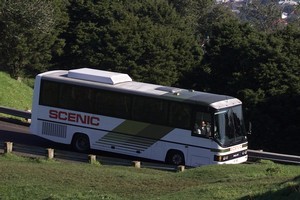 Auckland Council officials are preparing to run a shuttle vehicle up Mt Eden's summit road to replace large coaches, which they intend banning from its upper slopes from mid-December.
They have allocated a side road halfway up the volcano as a coach parking and turning area, with the idea that passengers should be invited to walk an extra 200 metres to the summit, or catch the electric-powered shuttle.
The idea is being resisted by tour operators, who say they cannot allocate extra time for largely elderly clients to clamber up the mountain, and will have to remove its sweeping views of Auckland from their itineraries.
But the Friends of Maungawhau group of volunteers, which is dedicated to caring for the mountain, and Maori iwi negotiating with the Crown for the right to co-govern Auckland's volcanic cones say the coach ban cannot come soon enough.
Tamaki Collective chairman Paul Majurey said that banning the buses from the upper slopes of what was a culturally and spiritually important mountain was prescribed by a reserve management plan as long ago as 2007.
That followed a long public submissions process but went only part way to satisfying a call from iwi and others to keep all traffic off the entire mountain "so it's been a huge disappointment that the management plan hasn't been implemented".
Bus and coach operators say the Auckland Council dropped a bombshell on them early last week in telling them that heavy vehicles would be banned from the summit from late next month.
After a heated meeting, the council agreed to delay the start of the ban until December 12, but the operators want an extension until at least April to ensure the itineraries of cruise ship passengers are not disrupted.
Council parks, sports and recreation manager Ian Maxwell said that after speaking to iwi and local community members, his team decided that delaying the move until December "was about as far as we could go".
He expected many people would be prepared to walk from halfway up the mountain to the summit, but the council intended providing a free shuttle service for elderly people and others who may not feel up to the challenge.
Mr Maxwell said coaches trundling up the summit's narrow and largely one-way road were becoming larger and posing hazards for pedestrians as well as putting pressure on the mountain's erodible slopes.
Albert Eden Local Board chairman Peter Haynes said it was nonsense for coach operators to claim that tourists would be barred from the summit, and noted that the former restaurant halfway up the mountain had been turned into a visitor centre.
But Inbound Tour Operators' Council chief executive Lesley Immink said the Auckland Council had produced no evidence of damage or accidents caused by coaches on the mountain and the ban would force her members to remove it from their itineraries.
She said coaches carried almost half of the 1.2 million people who visited the summit annually, and most of their passengers were elderly people who would not be up to the climb.
They would require a fleet of shuttles, but the coach operators could not afford the extra time that would take.
Ms Immink feared the operators would be penalised for not providing the spectacular views of Auckland from the summit which they had promised overseas visitors in brochures.
Road block
* Buses will have to park halfway up Mt Eden.
* Passengers will walk 200m to the summit or take an electric shuttle.
* Tour operators say this could harm their business.