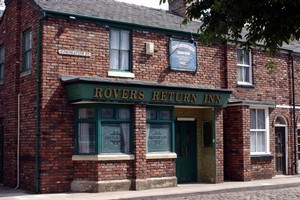 It's the kind of plot twist that would set tongues wagging up and down the famous Wetherfield cobbles.
Just months before its 50th birthday episodes are due to screen, Coronation Street is being shunted out of primetime and into an afternoon slot.
The world-famous British soap, which airs for an hour on Tuesday and Thursday, will now be shown for 30 minutes each weekday at 5.30pm.
It's swapping places with MasterChef Australia, which will air at 7.30pm every night for the final three weeks of the competition.
TVNZ chiefs say the move is temporary but appear to be hedging their bets. The head of TVOne and TV 2 Jeff Latch said it could become permanent depending on viewing figures in the new slot.
"We are seeing how that plays out, we expect (Coronation Street) to go back to 7.30pm.''
But with the change Coronation Street viewers would get an extra half hour of the show each week, which they might like, he said.
"We have got an open mind.''
They're also planning to edit out some of the racier scenes to ensure the show complies with the rating required for an afternoon show.
"When you edit you lose some things out of the show.''
The show would also be moved during Rugby World Cup and election coverage. Mr Latch said this was not a plan to keep the show permanently broadcast at 5.30pm and the change had been planned for a while.
This hasn't calmed fans, who have flooded message boards with their outrage.
Blenheim resident Sheryl Blick told APNZ the change was to a "real dumb timeslot''.
"It's not a good time, especially if you've got kids and are getting tea and whatnot. People in resthomes, they're having their meals at that time, it's just a stupid time to have it on.''
Herald online reader Maureen said it sounded like a man had made the decision.
"What do they think most people (women) who watch Coro St are doing at 5.30pm? Usually cooking dinner.
"I myself am sick to death of these cooking programmes, I find them boring mindless garbage, people must lead very empty lives that they should be bothered as to who cooks better than someone else.''
Mr Latch told tvnz.co.nz the Coronation Street audience had halved since 2002.
But figures compiled by Freeview and published on throng.co.nz said Tuesday's episode of Coronation Street was the third most watched programme on TV One, with 511,310 viewers, behind only One News and Close Up.
MasterChef Australia was the fifth most viewed, with 225,970 viewers.
Coronation Street was also the third most viewed show across all the free to air channels, beating Shortland Street.
MasterChef Australia did not make the top five.
Broadcasting Standards Authority spokesman Dominic Sheehan told APNZ he had already received a few phone calls and emails complaining about the move, but as long as the broadcasters complied with the free-to-air television code it could screen at 5.30pm.
"A G show needs to be effectively suitable for child viewers to view alone.
"They're going to need to make sure the show complies with the G timeslot, and if they do that they can show it until their heart's content as long as it's suitable for a G audience.''
In May this year Labour MP Lianne Dalziel put a request in to the Broadcasting Standards Authority at a Commerce Select Committee that the adults-only category be moved from 8.30pm to 7.30pm, citing Coronation Street as an example of becoming too raunchy.
She said the content of Coronation Street had changed and ``was shocked'' when she watched the show.
The programme now dealt with "incredibly complex issues, serious issues, that challenge some of the values parents would want to instil in their children''.
In 1994 TVNZ announced it would cancel the show completely, but public outcry forced them to keep it and in 1997 a petition to retain all four episodes of Coronation Street went big after TVNZ announced it would no longer present half-hour episodes on Saturday night.
- APNZ