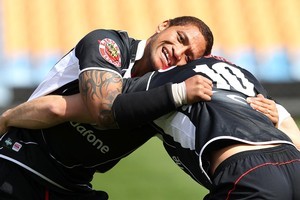 Warriors winger Manu Vatuvei doesn't mind admitting he's a man who loves his tights.
The man dubbed The Beast has worn the same stretchy undergarment in every game this year, and he'll be putting them on again for the NRL Grand Final on Sunday against the Manly Sea Eagles.
Vatuvei said it was his own ritual.
"A few of the boys just listen to their iPods, put their earphones on and zone out. I do the same too ... but whatever tights I wear for our first game, those are the tights I wear throughout the whole season.
"I don't like changing them. If I lose them that's the only time I'll replace them. If I win with these tights, these are the tights I'll wear for ever," he joked.
He made the admission at a fans day yesterday where a couple of thousand happy, chanting league lovers descended on Mt Smart Stadium for the team's only public outing before the players fly to Sydney this afternoon.
"It's outstanding. When we ran out on to the field I looked up - it means a lot for us," Vatuvei said.
Children and teenagers bunked school for the light run and parents brought toddlers to be part of the day.
One fan, Pam Rollo, 61, handed over a crotcheted baby blanket, beanie and mittens she had stayed up all night finishing for new father Micheal Luck. His son, Murphy John, was born on September 13.
"I usually go to the Grand Finals but I can't fly this year because I had a stroke, so if they don't win I'll be absolutely gutted," Ms Rollo said.
Luck said the gesture was sweet. "It's amazing. I don't expect that sort of stuff to happen, I'll be forever grateful to the Warriors fans, they're some of the best in the business. I'm sure the little bloke will love the blanket as well."
Former Kiwis great Ruben Wiki, who runs water as the team's "H2O technician" for home games, was also there but he won't be in Sydney at the weekend.
"I'm watching it in front of my TV and my kava bowl. I definitely still think the boys can do it. They've shown everyone that's doubted them that if they put their minds to it they can achieve big things."