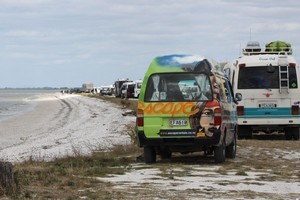 Dozens of rugby tourists are getting a polite hurry-along as they try to park their campervans around the Coromandel.
The Thames-Coromandel District Council began patrolling the peninsula's hot spots a month early because of Rugby World Cup visitors.
The patrols also come days before the council revises its bylaw placing a blanket ban on freedom-camping in all public areas to meet new government legislation.
Council communications manager Benjamin Day said a significant increase in the number of tourists parking their campervans along beaches and in carparks had been noted in the past week.
"On Thursday, our officers talked to a group from Ireland and they had 10 campervans, and the day before there was a group of five campers, all Australian supporters."
Freedom-camping was not usually an issue for the council until after Labour Weekend when the patrols usually started, Mr Day said.
Issuing fines was a last resort and the officers were instead informing the tourists where they could legally park their campervans, such as at commercial and Department of Conservation camping grounds.
"It's unfair for us to expect everyone to know all of the rules because some districts allow it and some don't."
Under the new Freedom Camping Bill passed in August, councils can fine illegal campers and prosecute them for dumping sewage from vans where freedom-camping has been banned.
Councils cannot ban freedom-camping in all public places - as the council did previously - and it will tomorrow be asked to amend its bylaw to identify places where campervans cannot park.
The owner of Dickson Holiday Park in Thames, Geoff Hawthorn, said the council was doing its best to fit in with the new legislation, but he added that most ratepayers were opposed to freedom-campers getting a free ride while local residents paid for water, rubbish and sewage services.
NZ Motor Caravan Association resource management co-ordinator James Imlach expected the council to give good reasons for prohibiting freedom-camping in some areas.
"We would be disappointed if they came out with only a handful of designated spaces."
Mr Imlach said the thousands of freedom-campers wanting to visit the district usually spent at local businesses the money they saved.
The council aims to have the legislation out for public consultation and passed in time for its busy summer holiday period.