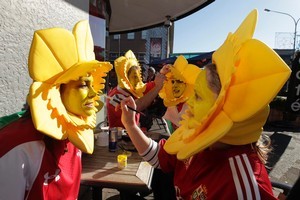 Welsh fans (from left) Laura Donovan, Richard O'Rien, Joe Merola and Elly Lesser make Taranaki's last World Cup match yesterday a day to remember. Picture / Mark Mitchell
The Real New Zealand Festival has promised hundreds of events around the country alongside the Rugby World Cup - and the almost five-hour drive from Auckland to New Plymouth includes quite a few.
Small towns on the drive have captured the festive spirit of "a stadium of four million" even without any teams or matches based there - though in their enthusiasm some may be falling foul of strict tournament advertising rules.
Most festival events along the route are based in Auckland itself, ranging from theatre performances to rugby art galleries.
But the first outside the city centre currently running is Oranges at Halftime in Pukekohe, a touring exhibition about New Zealand's rugby history. It has already gone around the South Island and much of the North Island, and begins in the South Auckland town centre today.
Hamilton has been hosting several events, but the quickest to rush through without time to stop is at Waikato Museum, where Red, Yellow, (All) Black features a fibreglass cow painted in the three colours and historical photographs.
Schoolchildren were yesterday visiting the exhibit, which will continue to run for the next few months.
The next two towns, Te Awamutu and Otorohanga, were in the World Cup spirit with flags all around their town centres, but had no events on.
Te Kuiti, however, has been included in the official festival itinerary as Meadsville - the home of Sir Colin Meads.
The town centre has an outdoor picture gallery with several life-sized vintage photographs of the Meads brothers' playing days.
The country highway continues through Waikato farmland with silver ferns flying from many driveways.
Piopio, a small town of fewer than 500 people, has also decked out its main street, with All Black flags and bunting on all of its dozen or so lamp posts.
The owner of the Little Alpaca Shop, Marion Watson, said the local rugby community had pitched in to decorate the town to get in behind the tournament.
There had not been a huge surge of business so far - the Irish visitors were too young for knit goods and other visitors said they had been too busy so far to take a good look around the country, Ms Watson said. But she worked on Sundays at the Cosmopolitan Club and the locals had been getting right into the games.
The club offers RWC 2011 door draws and raffles, which are of dubious legality under Rugby World Cup advertising laws, but seems to have passed scrutiny, with the town more than 100km from any city.
"Rugby runs in the blood," Ms Watson said.
She said she loved rugby too much to watch with others - "There's nothing worse than people yelling and yahooing. I like to concentrate."
The road soon turns more mountainous before coming out on the western coast, running through Taranaki to New Plymouth.
Official World Cup flags start flying from 5km out of the city, which set up an international village near its waterfront.
It was based around a modern information centre building and included exhibits and musical acts in an outdoor marquee, though its last day was yesterday, with the game between Wales and Namibia.