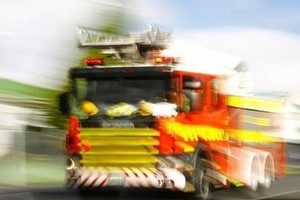 A large Tongan flag flies proudly above the burned-out shell of a Whangarei family's home, contrasting the excitement of last week's Rugby World Cup game with the tragedy of a house fire that has left a family of seven homeless.
Just days after their national rugby team beat Japan in Whangarei, the Fotu family were sitting on the ground outside their Raumanga home among what remained of their charred possessions.
While all family members managed to escape the fire unharmed, they were "extremely lucky" to be alive, a fire investigator said.
Northland fire investigator Craig Bain said the fire, which started about 4am yesterday, was caused by an electrical fault in the kitchen of the Murdoch Crescent house.
"They were very, very lucky because the smoke alarm wasn't working," he said.
"There could have been up to five people killed in that fire."
The Fotu family have rented the house for just over a year.
Miki Fotu is the minister of the neighbouring Wesleyan church, which serves about six Tongan families.
The fire was discovered by Mr Fotu's wife, Meleana, when she woke up to go to the bathroom early yesterday morning.
She immediately raised the alarm and the family escaped through windows.
Her teenage son David, sleeping in a downstairs room, was woken by the noise of windows smashing and fled his room.
His sister Meliame returned from a late shift at Kamo McDonalds to find her family on the street and fire crews hosing down her burned-out house.
While she was shocked to see her home gutted by fire, she felt blessed that her family were not hurt or killed.
"We thank God everyone is okay," she said.
"We don't care about the stuff, it's rubbish, as long as everyone is all right.
"We can say goodbye to the furniture, but life we can't."
The family escaped the fire with little more than the clothes they were wearing.
Once the fire had been doused, fire crews dragged what remained of the family's possessions on to the back lawn.
The family were sitting among their charred possessions when the Northern Advocate arrived.
While they were not sure of their next move, Mr Fotu was still planning to take the Sunday church service.
A church member had offered to take them into her home.
However, with no insurance, the family are not sure where they will go next and were appealing to the Whangarei community for help with accommodation and furniture.
Mr Bain said the fire was a wake-up call for people to check the batteries in their fire alarms.
"With daylight saving we ask that people check their smoke alarms.
"This is a good reminder."
- APNZ