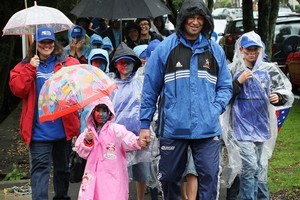 A group of young and vocal supporters joined the crowd at Eden Park yesterday for the Pacific clash in the Rugby World Cup.
Twenty pupils from Roscommon and Mt Eden Normal primary schools got free tickets to the Fiji versus Samoa match - and they also got to hang out with two rugby greats, former All Black Joe Rokocoko and former Manu Samoa captain Pat Lam.
The pupils' big day out was courtesy of a joint initiative between Rugby World Cup 2011 and sponsor MasterCard to connect youngsters with their rugby heroes.
Roscommon pupils were decked out in white and black, in support of the Flying Fijians, while Mt Eden pupils had their faces painted blue and red in honour of Manu Samoa.
Roscommon mates Jerish Tanuvasa and Sekola Kaifa were a little hesitant to say they were supporting Fiji.
"My uncle's the captain for Manu Samoa," Jerish said shyly.
"I'm supporting Fiji today, but my heart is with Samoa."
Sekola said: "I'm Tongan but I'm going for Fiji because that's the game we're going to."
Before the match, the two schools met at Mt Eden Normal school yesterday, where they faced off doing each nation's equivalent of the haka, Fiji's cibi and Manu Samoa's siva tau.
Later they walked towards the stadium singing the Fijian national anthem, impressing other fans walking to the park who stopped and clapped the youngsters.
Rokocoko, proudly showing off his Fijian rugby shirt, said he was happy to be spending the day with young fans, particularly at yesterday's match.
"This is the big island game everybody's been waiting for. It would've been cool to see both teamsgo through, but that's not how itis.
"My wife's half Samoan but I'm all Fiji today," he laughed.
Lam said it was a great opportunity for the kids - several of whom had never been to a rugby match.
"A lot of their parents are going to be envious of them, I think. I know I would be."
As the pupils reached the stadium, the significance of the occasion seemed to finally dawn on some in the group, who stood with their mouths slightly open.
Mt Eden Normal pupils Eloise Mowbray and Maia Baillie said they were "soooo excited".
As they walked into the stadium, they screamed: "Go Samoa!"
The match - won 27-7 by Samoa - had been pitched as an island battle, but there was a friendly, carnival atmosphere among the sell-out crowd.
Many fans seemed intent on making a fashion statement with the costumes they wore, while others entertained the crowd throughout the match.
One man in a blue shirt ran up and down the stands waving a large Samoan flag every time the team scored.