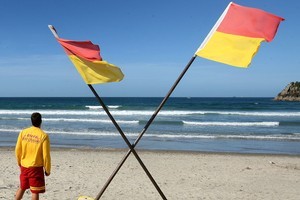 Anguished family members looked on as rescuers frantically tried to revive a man who drowned after getting caught up in metre-high swells on a west coast beach.
The 35-year-old Palmerston North man had been swimming with family and friends in the surf at Himatangi Beach, about 17km northwest of Foxton, on Friday.
Police said the man got into difficulty in the incoming tide, with swells ranging from half a metre to a metre high.
Palmerston North volunteer surf lifesaver David Clarke and another club member found the man unconscious in murky water about 100m offshore, some 2km down the beach from the surf club.
They had just arrived at the beach to fix a motor and take a boat out for training when a police officer told them a man was missing.
"It's just luck that we were there and managed to help out," Clarke said.
"We spotted him, basically jumped in the water and got a hold of him, managed to get him into the boat and get him to shore and just started CPR really until the volunteer fire brigade showed up with some paramedics."They tried frantically to revive the man for about 20 minutes.
"You know that that's the risk - you can't always save everyone I guess. But we certainly tried our best and did everything we possibly could."
Clarke said the sea was not excessively rough.
"It was maybe half a metre or a metre swells I suppose."
Senior Constable Chris Barclay of Foxton police said the man's partner and family had been at the beach with him.
"She's just lost her partner of so many years, the father of a number of children."
He said it was an emotional time for the man's family, and for those involved in the search and recovery. The family had been offered help from victim support services.
Volunteer firefighter William Potbury, who brought a defibrillator to help revive the man before paramedics arrived, said he did not know how the man came to drown. The tide was almost full at the time.
"I wouldn't call it a big surf, so conditions probably weren't overly pleasant for swimming but it certainly wasn't as rough as I've seen it. So I'd say nothing really out of the ordinary, as far as sea or anything goes."
The man's name has not been released and the death has been referred to the coroner. Himatangi Beach is a small community situated on a long sandy beach with large dunes.
- APNZ