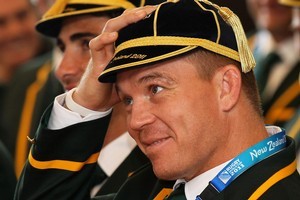 Nine Springboks have sheepishly returned a silver fern sign they took as a prank - after they were confronted by a feisty Matamata bar manager.
Fresh from their 87-0 mauling of Namibia at North Harbour Stadium, the Boks, including skipper John Smit, met their match on the main street of Matamata after stealing the sign outside a bar.
TRAC Sports Bar Matamata owner Gail Bailey said she paid little attention when a group of unusually large men came into her establishment about 2pm yesterday.
"They came in for a drink but they ended up going to another bar in town. They wanted lunch and we're more of a sports bar," Mrs Bailey said.
But when a patron told her the men had made off with a New Zealand Community Trust sign on the footpath, Mrs Bailey chased them down the street.
"I took after them, told them I wanted my sign back and gave them a rev-up. I didn't know who they were.
"I just gave them a serve about pinching stuff. I said it wasn't very good visiting our town and pinching things."
The chastened players told Mrs Bailey they had always intended to put the sign back. "I told them, 'Don't bulls*** me'."
The Springboks' media manager, Andrew Colquhoun, said a group of nine players opted to drive from Auckland to Taupo. "They're taking a bit of a leisurely day down to see a bit of New Zealand after two weeks of hotels and airports."
Last night, he didn't have full details of the incident as the players were yet to arrive at the team's hotel.
"I did have a text from John [Smit], who said it was just a bit of fun with a lady in the bar and that nothing was stolen."
Mrs Bailey was shocked to find out who the men were and thought the sign was taken because it had a silver fern on it. "So maybe they're a bit worried about us."
Still, yesterday would go down in the bar's folklore. "It is a laugh," Mrs Bailey said. "And everyone in the bar is having the biggest laugh about it because here's me running after these big tall guys."