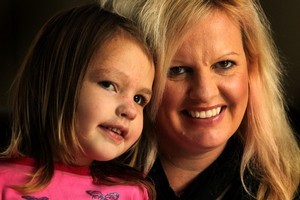 After three months raising $62,000, it's almost "Z-Day" for a special little girl in need of life-changing surgery.
Five-year-old Zahnee Campbell and her family will fly out from Tauranga Airport tomorrow and on to New York, where she will receive treatment for a rare condition that could not be operated on in New Zealand.
Zahnee has grown up with a debilitating facial vascular hemangioma tumour, an external and internal birthmark, which came from behind her right eye days after birth.
It is thought to be the only one of its kind in the country.
Her sight has deteriorated, affecting co-ordination and causing headaches and painful pressure on her shoulders.
Zahnee's parents, Paul Campbell and Jade Riley, were forced to search overseas for an answer to their daughter's plight, and finally found it in a leading ophthalmologist.
After their application to a special Government health fund was declined, the Papamoa family were left to raise the $60,000 they needed for the operation, consultations and travel costs.
Support from the Tauranga community, combined with generous donations from Herald readers - including one anonymous cheque for $10,000 - took the tally to $62,000 and ensured Zahnee's operation will go ahead on schedule.
"It's been a hell of a lot of work to get $60,000 in three months," a relieved Ms Riley said yesterday.
She said the support had been "amazing", and was yet to find out the identity of the mystery benefactor whose huge cheque boosted the cause.
Ms Riley said she also wished to thank all others who had donated or supported her, including her local New World Supermarket, which helped her to print 2000 copies of a fundraising cookbook, and a couple from Zahnee's school community who came forward with a $1000 donation.
"It's all so appreciated and we've simply been overwhelmed," Ms Riley said.
Zahnee marked the eve of her adventure with a party at her school yesterday.
Her recovery will likely take some time and more plastic surgery in New Zealand may be required to complete her treatment.
Ms Riley will put all proceeds from the sale of the remaining cookbooks towards Zahnee's treatment.
How to help
* Cookbook copies can be ordered at Cook Book, PO Box 11186, Papamoa 3151. Enclose an $8 cheque.
* Post messages on Facebook at "Zahnee's Cause".