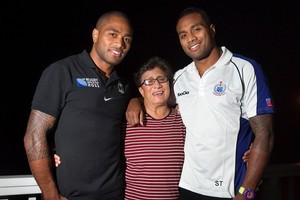 Like most brothers, the Tagicakibau siblings like to joke with and tease each other, but ask them who's going to win this weekend's match between Fiji and Samoa and the room goes quiet.
They eye each other for a few seconds, before roaring with laughter. "The team in white," says Michael with a cheeky smile.
Older brother Sailosi looks at his mum before turning to his brother and smiling, offers no come-back.
The two will put aside brotherly love this weekend as their teams go head-to-head in what is being pitched as an island battle at Eden Park tomorrow.
Sailosi, 28, is a winger for Samoa, from where their mother Lealofi comes. Michael, 26, who also plays on the wing but has not been picked for this game, is representing their father Isikeli's homeland, Fiji.
It's a somewhat curious situation, they say, but something they are proud of as they are representing both sides of the family.
"We've played against each other before," says Michael. "It was funny watching the Samoa and Wales game. I really wanted Samoa to win but then I was thinking about my team."

They are not allowed at each other's training sessions and sometimes communicate only through text.
"I tried calling him the other day but didn't get to talk to him," Sailosi says. "He probably thought I was spying on him.
"We're very proud of both our cultures and we're doing this for our families just as much as we're doing it for our countries. Until the game we're still brothers and we're still friends. But when that whistle goes, I'm going to rip him apart."
The brothers grew up in South Auckland and are the eldest of five.
Sailosi now plays for London Irish; Michael is with another English club, Saracens.
On the porch of the family's Manurewa home stand the Samoan, Fijian and New Zealand flags, as the All Blacks also get their support.
About 40 family members will be at Eden Park tomorrow, wearing T-shirts saying: "Tagicakibau brothers."
The shirts are white, for Fiji, but with blue sleeves, for Manu Samoa.
Mr and Mrs Tagicakibau have been to every Fiji and Samoa game during the tournament.
Mr Tagicakibau says: "It's been crazy. We go to Sailosi's game wearing blue, then we come home and get changed in white for Michael's game."
Asked who they would like to win, neither gives a side. Mr Tagicakibau says: "We just want to see them play and play well and come out with no injuries ... It would be nice to see one of the Pacific Island teams go up in the tournament, so whichever team wins we will be happy."
Looking at her sons, Mrs Tagicakibau says: "I put them in sport to occupy their time. I'm just thankful to the Lord that he has blessed them in this way."