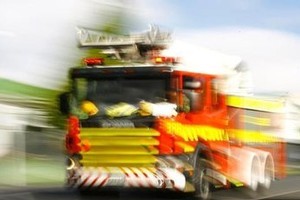 An early morning fire in an isolated Coromandel peninsula community is being treated as suspicious.
Emergency services were called to the blaze engulfing a two-storey house and two outbuildings in Kennedy Bay at 3.40am after being alerted by a neighbour.
Detective Senior Sergeant Mike Whitehead said the cause was deemed suspicious after a scene examination by fire investigators and police.
Officers were trying to confirm the location of the owners of the home.
A neighbour said the house belongs to Harvey and Janis Rollinson, who are believed to be in their 60s.
Speaking from the scene, Senior Constable John Morrissey of Coromandel police earlier told APNZ there were fears for the safety of a 63-year-old man believed to be the only person inside the house at the time of the fire.
Mrs Rollinson declined to comment.
But Mr Morrissey later said the man had been seen and police no longer had concerns for his saftety.
The neighbour, who did not want to be named, said she had known the Rollinsons for 25 years, and described the fire as "devastating''.
"I heard the sirens going and I looked over and I could see this huge glow and flames and huge, loud explosions.''
The two-story building was "burnt to the ground''.
Four fire crews battled to bring the blaze, on Kennedy Bay Rd, under control.
Mr Morrissey said it had been a large blaze and the building had "collapsed in on itself''.
"The glow could be seen for many miles and it was a neighbour who saw the glow in the sky who first alerted police and fire,'' he said.
The first person on the scene tried to enter the main dwelling but it was well ablaze.
"He thought there was a possibility that the person could have been in the garage, they opened the garage door but of course with the influx of air that just exploded and became fully involved as well.''
The man was uninjured.
Mr Morrissey said the fire was "absolutely'' a shock for the tight-knit community.
- APNZ