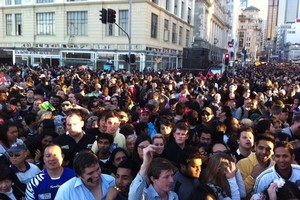 The flood of Rugby World Cup visitors has pushed tourist numbers to record heights, gladdening tourism promoters after a calamitous year.
Figures released yesterday by Statistics New Zealand showed nearly 176,000 visitors arrived last month, the most for the typically off-peak August.
The World Cup was credited for about half of a 5 per cent lift in numbers, with 4400 visitors naming the tournament as their reason for coming.
Of those, half touched down in the last week of August, adding to the total 5600 that arrived between July and the end of last month.
Tourism New Zealand chief executive Kevin Bowler expected numbers for this month and next would be just as pleasing.
"We don't yet have a comprehensive view of what September will look like, but indications are that the numbers will be pretty good," he said.
"What we are talking about here are not peak months of the year and compared to other Septembers and Octobers, we could certainly see some records broken."
Mr Bowler said planners were still confident of reaching the 95,000 Cup visitors projected, with about 27,000 staying at least a month.
"That's the number we are working toward. It's too early to say whether we are on track or off track but there's no reason to suggest we're off track. I would have thought we are tracking well."
The countries with the highest number of cup tourists last month were Australia and the UK, with 1200 visiting fans each.
The boost came after a tough first half of the year for international tourist numbers, which had been dogged by the Christchurch earthquake in February, the tsunami that devastated Japan a month later, and the volcanic ash cloud that disrupted flights worldwide in June.
"What we've seen with August is the first strong month since January," Mr Bowler said.
"Even to see the number of visitors from the UK up on the same month last year is quite extraordinary - that hasn't been happening at all."
The figures come on the back of a Paymark report showing that spending on overseas credit cards was up a huge 32.5 per cent - or $12 million - over the opening 10 days of the cup.
Over the period, rental car outlets had enjoyed an extra $2.1 million above normal, an extra $900,000 was spent on accommodation and hospitality netted $9.2 million more than normal.