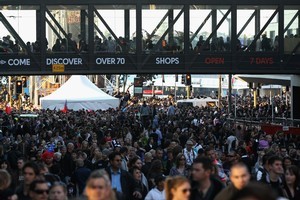 Rugby World Cup revellers caught short during opening celebrations at Auckland's party central can heave a sigh of relief - the area is now awash with portable toilets.
Parts of Queen's Wharf were reportedly "a sea of human excrement" after the opening night debacle, during which more than 200,000 people poured into downtown Auckland for the cup opening celebrations. Some were crushed at the gates to party central during a three-hour wait - including a woman carted out by paramedics - and several frustrated party-goers jumped the fence.
Problems were compounded by a lack of toilet facilities, and there were limited outlets to buy food and water from. Add to that a beautiful day bringing out the crowds and everything combined for "a perfect storm", a bar owner told APNZ.
"There are some horrific stories out there about people trying to break into buildings to use the toilets," he said.
"People were desperate. But I see that as in the past and I don't see any point in dwelling on it.
"They've learned from that mistake. Now there are toilets everywhere."
The Government announced last week it was seizing control of the waterfront from Auckland Council, and last weekend was a vastly different scene.
A 24-hour convenience store manager whose store straddles the Viaduct's main bar area and party central said he was abused by customers desperate to use the bathroom on opening weekend.
Fix manager Sarath Sathyanathan said his store was overrun with people with bursting bladders.
"We sent them to the ferry building - it was the only option at the time. There were a lot of customers yelling at me after I said no."
Desperate fans even resorted to relieving themselves off the wharf's edge, he said.
He said vomit, rubbish, pie wrappers and cans were normally left on the street and steps outside the store following match nights.
Mr Sathyanathan said police and council have provided more security, bathrooms and faster clean-up efforts for the games since the first match chaos.
The council yesterday complimented bar owners on how well the Viaduct area was running and told them there were fewer problems than during a normal weekend.
The bar owner was confident the rest of the RWC would follow the last weekend's success and urged people to be patient.
"They're (organisers) all learning as they go."
- APNZ