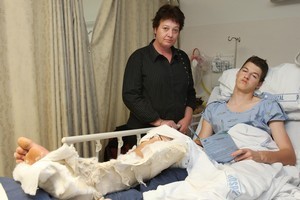 Police are urgently seeking witnesses to a collision involving a dark station wagon and a scooter on Truman Lane near Baypark Stadium in Mt Maunganui about 10.45pm on Saturday.
A car that smashed into budding basketball player Alex Schipper, shattering his right leg, is believed to have been racing with another car.
The 16-year-old victim told how he saw two cars side-by-side, speeding towards him.
"They came around the corner, spun out and boom, hit me," he said from his hospital bed.
"I remember being on the bonnet and then the ground, then looking up and calling out for help because of the pain."
Police are speaking to a 20-year-old man from Reporoa who walked into the Rotorua Police Station yesterday.
Schipper had been shooting hoops only hours before the hit-and-run, and his sporting career is now on hold indefinitely. But the youngster is determined to get back on his feet in time to attend the New Zealand Breakers' summer camp at Christmas. Schipper was picked to attend the camp for the top under-20 players in the country.
"I'm pretty pissed off because I was quite excited about it, and because the Breakers just played there that night," he said.
The 2.08m athlete was hit head-on and flipped on to the car's bonnet before being thrown to the ground as the car sped from the scene. His right leg was shattered. The car that hit Schipper - a Ford Falcon or similar - reversed, spun around and took off. The other car stopped.
"They were looking around wondering if they should come over or not, then a cop car came in right behind them," Schipper said.
He believed the people from the car knew the others they were racing with.
Coach and mentor Andy Mackay said the injury was a disaster.
"The kid has a very, very bright future. We had a lot of things going on in the pipeline for him on top of the under-20s summer camp. Now all that is going to grind to a halt," he said.
However, Mr Mackay said the basketball industry understood injury and Schipper was lucky he was young and fit.
The teenager works at Baypark and had been on his way home when the crash happened.
Earlier that day he had met members of the New Zealand Breakers who were training shortly before a game.
Schipper is considered a rising star in basketball, despite starting late, just two years ago.
"I never thought I'd actually get this far but with my height and everything, I got the chance to go further. But with this happening, I'm going to have to start from the beginning again," Schipper said. He'll be forced to wear a plaster cast for up to six weeks. Doctors have estimated it will be another six months before he is fully active again.
- APN