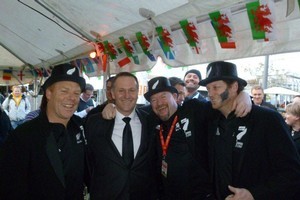 Todd Fuller is travelling around New Zealand as a good old-fashioned rugby fan during the World Cup
Well, if the Rugby World Cup keeps moving along with this much momentum Martin Snedden will have to be knighted. Everyone seems to be doing their bit to make this the greatest World Cup.
Whether it be the family that took in the South African couple who had booked a hotel in Wales instead of Wellington or the offers afforded to the Aussies to be taken on fishing trips.
We are trucking along with our mission to have a beer with every nation represented at the cup with well over half the nations completed in what we call "qualified consumption duties".
There have been some favourites and none more so than the Welsh, in the buildup to any game you can hear the Valley boys singing for miles. There must be same special DNA that give them all the ability to sing. I now know all the words to Bread of Heaven, but unfortunately sing like a strangled cat.
But if Hamilton felt like Cardiff last Thursday, then we took back the streets en masse by Friday, with a black wave hitting town. My drinking mates and I were made honorary VIP Welsh supporters courtesy of our antics the night before, and managed to meet and greet with John Key before the match against Japan.
Humour was at the forefront of most meetings, including a mass scrum in the middle of Hood St in which Aussies in blow-up sumo suits went up against the What Goes on Tour lads.
The night was Hamilton at its best, with all nationalities partying into the wee small hours (or as late as Hamilton actually goes). Police and security staff have been great, but we witnessed one odd incident. A Welshman won a door prize at a bar and hopped on stage to be presented with his RWC All Blacks Cap - well done, son! He proudly put his hat on, only to be thrown out 15 minutes later as you're not allowed to wear hats inside. Go figure.
Sometimes the drink gets the better of us. My mate Snow decided at 2am that, as we were off to the Japan v Canada game next week, he'd buy an authentic Kamakazi headband off a bloke in the bar for $50. How we laughed in the morning when we found out it was a napkin from a restaurant with a red lipstick circle on it. Banzai, indeed.
The local RWC store told us 90 per cent of Irish gear sold on the day of the clash against the Wallabies went to Kiwis. There were true-green Irish girls there painting everyone's faces, but the day was basically just a big St Patrick's day: A Celtic-themed multi-national booze-up.
How things changed at the ground. I've been going to Eden Park since I was 6 - on its day, the old terraces for a one-dayer were as good a party as you'd get. But never have I seen such singing and the more the crowd believed an upset was on the cards, the more Irish we all became. Shoulder to shoulder Kiwis answered Ireland's call.
Who would have thought that we could have a night as big as the World Cup opener?
And though down about the rugby, the Aussies were still at their beer-swilling best. We're booked in to be in Auckland for the quarter-finals, but after the weekend we've just had, we'll be casting a covetous eye down at Wellington, where - if all goes to form - a Wales v Ireland quarter-final will bring the house down.
Some people say the players shouldn't be drinking. I say: bollocks. We're having the time of our lives so why shouldn't they? It's not often I agree with Martin Johnson, but a big thumbs up to the England coach for letting his guys off the leash.
This week will be the first in which the rugby nerves kick in - the heart pounding, the sweaty palms.
We need our boys to get their teeth into something.
Looking forward to raising a glass with fans from South Africa, Fiji, Samoa, France, Canada , Japan and especially Namibia. If there are any Namibia fans out there going to tomorrow's game, drop us a line: Todd.Fuller@apn.co.nz.