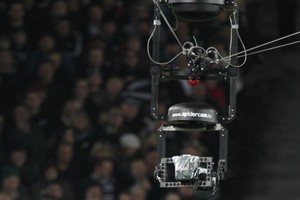 The high-definition spidercam will make its Rugby World Cup debut this weekend, following alterations to Eden Park to fit the sophisticated camera system.
The Austrian-designed overhead camera was first trialled in New Zealand at the Bledisloe Cup match in Auckland on August 6.
Sky TV said it could not be used at the World Cup's opening match because the cost of operation - around $20,000 a day - meant it was being saved for the tournament's most important matches.
Television audiences worldwide will get the spidercam's bird's-eye view at the All Blacks-France test and another 11 matches in Auckland and Wellington.
Sky has built temporary structures at the edge of Eden Park's new South Stand and the ASB Bank Stand to create the perpendicular cable lines required to operate the spidercam. The gyro-balanced camera can be moved at 8m a second along kevlar cables which are controlled by four winches.
It is allowed to drop to within 20m of the field during game-time, and to grass level during stoppages.
Sky Sports head Kevin Cameron said the only drawback was that it could not operate in a thunderstorm.