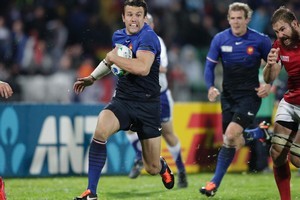 The French operator of Auckland's trains is flying in a senior executive from Paris after humiliating failures during the opening night of the Rugby World Cup.
But he is said to be here for pleasure only - to watch France play the All Blacks at Eden Park - and the company has yet to say whether he will take the train to the stadium.
Veolia Transport's chief executive of Asia-Pacific operations, Francis Angotti, will be in Auckland on Saturday for a marquee cup fixture.
The All Blacks face their World Cup nemesis in a match that is likely to decide the winner of their pool.
A company spokeswoman confirmed that Mr Angotti would be in town for the match, but noted that he was a frequent visitor as the head of Asia-Pacific operations.
The trip had been planned before the opening night chaos and he was here "more to see the rugby", the spokeswoman said.
On the Friday that launched this year's World Cup, thousands of people were shut inside sweltering trains that stopped on the tracks. A series of incidents caused by the overloading of the network caused many people to miss the start of the ceremonies at Eden Park and much of the criticism was directed at Veolia Transport.
Veolia is contracted by Auckland Transport to help to run Auckland's rail network, and is the world's biggest private transport operator.
The company's responsibilities in Auckland are on the trains only - everything below, including the tracks and train maintenance, is KiwiRail's domain, and everything above, including platforms, is handled by Auckland Transport.
Veolia has more than 400 staff in Auckland, and carries 8.4 million passengers a year on 1900 services a week.
The firm's local face is a Briton with a long career in transport and a PhD in politics.
Graham Sibery, the managing director of Veolia Transport, oversees the running of all commuter trains - but his commute is an easy walk from a Viaduct apartment to his office in Customs St.
Internet searches show Mr Sibery grew up south of Manchester, attending Alsager Comprehensive School before enrolling at Oxford University. He remained in higher education for 10 years, finishing with a doctorate in political decision-making.
He moved into the government and transport sectors, where he has spent most of his professional career.
After the British rail system was privatised and handed over to the company Railtrack in 1994, Mr Sibery worked in the operator's Midlands regional office, becoming accounts executive by 1999.
But Railtrack was plagued by safety and performance problems, which came to a head when four people died in a crash just north of London in 2000.
The company was placed in administration a year later.
Mr Sibery moved to the Strategic Rail Authority as the northern regional networks director.
The authority had been set up to monitor private operators and offer strategic direction for the rail sector.